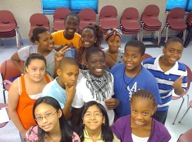 Los Angeles, California (PRWEB) September 19, 2012
The Story Project is grateful for the support of Michael Omidi, MD and Julian Omidi, co-founders of No More Poverty. Offering project-based learning, The Story Project's curriculum bolsters reading and writing skills, critical thinking, strengthens the collaborative process, and promotes imagination. Participating at-risk youth are encouraged to visualize their struggles – school, family, and personal conflicts -- and resolve them through creatively possibilities. Classes are conducted in a collaborative, imaginative, and joyful environment where middle and high school students have the opportunity to explore unending possibilities while improving basic communication skills.
"Storytelling is an ageless and universal art form and its power to inspire and motivate are well-known," says Todd Felderstein, Executive Director of The Story Project. "Our program mentors are all talented professionals in Los Angeles' vast creative community who relate extremely well with the kids. Thank you Omidi brothers for helping us continue to make these connections and inspire change in these young lives."
About No More Poverty
No More Poverty (nmp.org) is a not-for-profit charity organization with a pending 501(c)3 application founded by brothers Michael Omidi, M.D. and Julian Omidi. The organization seeks to end poverty at home and abroad by supporting the efforts of like-minded charities and agencies. Current efforts are focused on increasing awareness and donations to charities already doing great work that address poverty and its staggering effects throughout the world. The plan is to expand our activities to include fostering business development and job creation in disenfranchised areas.
Join us in the fight for No More Poverty. Suggestions for worthy partners in the fight for No More Poverty are welcome. No More Poverty does not accept monetary support, but instead encourages direct donations to the charities featured on nmp.org. For more information, please visit Facebook/nmp.org or nmp.org.
About The Story Project
Enlisting one of Los Angeles' most abundant resources -- creative talent, The Story Project (storyproject.org) was founded in 1998 by folks concerned by the declining literacy rates in our public school system. To date more than a thousand at-risk kids have participated in this unique curriculum and the numbers continue to grow. The strategy is simple: inspire literacy through the many media avenues young people already enjoy. Classes are held primarily after-school and are led by working writers, actors, directors and production professionals who volunteer their time to students. Through discussions and activities based in screenwriting, filmmaking, poetry, photography, and an assortment of media and art related fields, creative mentors reveal personal stories while inspiring the kids to share their own. These interactions bolster self-esteem while enhancing reading and writing skills. Based in Los Angeles, The Story Project has also had youth programs in Austin, Texas and Maryland.