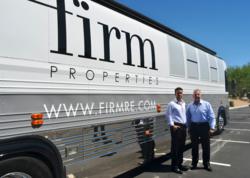 We are selectively recruiting only the best of the best, full-time agents who embrace the values of our company such as integrity, a commitment to customer service, and authenticity.
(PRWEB) September 20, 2012
2012 has brought new optimism and confidence in the real estate market in the Phoenix metro area, which had been particularly hard hit during the recession. Like the Phoenix bird, the metro area is rising again. Rising with it is a new real estate company with a fresh approach to helping clients buy and sell real estate. Firm Properties, LLC – also known as "The Firm" – has opened its doors in Scottsdale with a commitment to make a difference with its business model, client service, and in the community.
"It's a new era in real estate and we believe the time is right for a new business model, one that focuses on a superior experience for the buyer and seller," said Jeffrey Smith, Firm Properties, LLC partner and president. A 30-year real estate veteran who also launched a number of mortgage companies during his career, Smith is a unique fusion of expertise in the industry. He is known for his ability to navigate very complex real estate transactions.
Smith teamed up with Rick Cabral, another real estate veteran and former client of his. Cabral's former company, Newport Development, acquired, zoned and entitled more than 10,000 residential lots in metropolitan Phoenix, and owned and zoned over three million square feet of commercial properties during his 20-years in real estate. Most recently Cabral created and published Rebel Magazine, a national award-winning men's magazine with content designed to encourage men to lead a life of purpose and service to others. Those "Rebel-like" qualities are an important part of The Firm's business model. Cabral feels that there is a way to have customers, clients and business associates all win from an approach that begins and ends with honesty, authenticity and making the world a better place than when you started.
"We are passionate about being the best in real estate and doing things differently. One of the things we offer is a concierge service for our agents and clients to make it as easy as possible to take care of real estate business. Whether it's a sellers' home that needs repair before hitting the market, to assisting our agents with their marketing needs, the concierge is in-house and ready to serve," said Rick Cabral, CEO of Firm Properties, LLC. Another hallmark of the company is its commitment to social responsibility and serving some of the needs of the less fortunate via community outreach initiatives throughout the year.
Another difference is the luxury motor coach. Yes, a 45-foot, high-end bus, wrapped with the company's logo with an interior designed for comfort. The Firm will use the coach for philanthropic outreach, client needs and for home tours. "The motor coach is a powerful tool to communicate our innovation and professional commitment. Besides, it's cool," said Cabral.
The company plans to grow organically, hiring one by one rather than through acquisitions. "We are selectively recruiting only the best of the best, full-time agents who embrace the values of our company, including dressing professionally and placing a huge priority on customer service," said Smith.
"Whether our client is interested in a $300,000 home or a $30 million home, the customer experience will be the same. We value all clients equally and are appreciative of their confidence in us," said Smith.
The office is located at 8937 E. Bell Road, Suite 100, Scottsdale, Arizona. For more information call 480.951.8000 or visit the website at http://www.firmre.com.