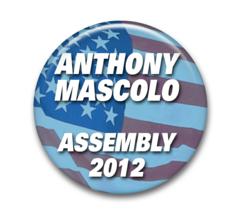 "I am endorsing Anthony Mascolo because I know his commitment to the people of the South Shore of Staten Island
Staten Island (PRWEB) September 26, 2012
Today Senator Charles Schumer endorsed Anthony Mascolo for New York State Assembly on the South Shore of Staten Island. New York's senior senator pointed to Anthony Mascolo's experience, qualifications and community involvement over many years as making him the best choice to be a New York State Assemblyman.
"I am endorsing Anthony Mascolo because I know his commitment to the people of the South Shore of Staten Island. Over the years, Tony has run a successful law practice in Staten Island where he has represented the community's needs. He has been a small businessman, has raised a family on the South Shore of Staten Island, and he has headed a number of community projects that have provided a great service to the Staten Island South Shore community."
The Senator indicated that the South Shore of Staten Island would benefit from having an assemblyman who would sit in the majority party of the Assembly, and be able to bring the various communities' needs to the forefront of the legislature. He also indicated that Tony is a long-time friend of people on both sides of the aisle and of Assemblyman Michael Cusick, and will work with other Staten Island elected officials to bridge the gaps and bring true bipartisanship to the South Shore.