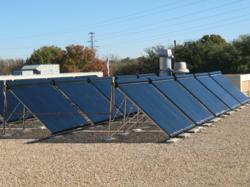 Our gas consumption is down, and there is little maintenance.
Dallas, Texas (PRWEB) September 28, 2012
The team at Eco Smart Energy, LLC and Blackall Mechanical, Inc., worked together to perfect a solution to generate an eco-friendly hot water system called Sun Equinox for the YMCA Town North located at, 4332 Northhaven Road in Dallas, TX. Blackall Mechanical states that this project began back in September 2011, and was completed in October 2011. John Blackall states, "We selected the Sun Equinox System based on the following criteria: Equipment life longevity, reliability, its' solar capabilities, and energy efficiency. The System was a perfect solution for this application. There is no other hot water system on the market today that offers 97% efficiency with a 40 year life, and has the ability to handle Hydronic heat, domestic hot water, and a pool loop with one system."
This project utilized the Sun Equinox system's "Eco Smart Energy" that will allow the YMCA to eliminate the need for an annual state boiler permit, as well as a reduction in their insurance premiums. This system will also reduce their water usage by 27%.
Other benefits of this eco-friendly system are:
o 43% projected reduction in gas consumption
o Reduction in carbon footprint
o Cut cost of ownership by 50% over 20 years
(double the lifespan of a conventional boiler, reducing maintenance costs,
and eliminate repair costs.)
Joe Lanier, Director of Facilities, YMCA stated that, "our current steam boiler was 19 years old, and was not energy efficient. Instead of sinking a lot of money in a new unit, we decided to go with a more "Green" option that would be more cost efficient and solar seemed the way to go. Our gas consumption is down, and there is little maintenance. We went from 4.2 million BTU's, to an average of 1.6 million BTU with the new unit."
John Blackall says, "The System's design consists of what Sun Equinox calls a 5-8-15 system. Five, three circuit heat exchangers Sani Cube Storage tanks, eight 93% efficient Noritz tank less heaters and fifteen Apricus AP-30 Solar panels. The majority of all piping was pre-fabricated in the factory and shipped with the system for reassembly on the job site. The Solar field is controlled by a DDC unitary controller integrated into the design of the system and pre-programmed at the factory making field installation that much easier." He went on to say, "YMCA can be proud of the fact that they have invested the funds of their organization wisely into a solar hot water system that will operate trouble free for years and years to come, save the organization thousands of dollars in utility costs over the life of the equipment and thousands more in repair costs that are eliminated because of the simplicity of the system".