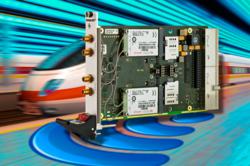 Ambler, PA (PRWEB) September 20, 2012
MEN Micro Inc., a world-renowned provider of embedded computing and I/O solutions for mission-critical industrial, mobile and harsh environment applications, has released the F223, a robust PCI Express (PCIe) Mini Card carrier board that features two PCIe Mini Card slots as standard with USB and PCI Express connections as well as two SIM card slots.
The new 3U CompactPCI board can be used in virtually all wireless applications from GPS, WLAN and UMTS to GSM and HSDPA, and is expandable to 18 SIM slots. Each PCIe Mini Card incorporates two or three redundant SMA antenna connectors on the front panel to guarantee the most stable connection over different frequency ranges.
The two PCI Express Mini Cards on the F223 can be reset and powered on and off separately without having to reset the whole system.
For applications with frequent location or rate-related network changes, MEN Micro's AE64 adapter board enables each of the two PCIe Mini Cards to control up to eight additional SIM cards, so that a maximum of 18 SIM cards can be accommodated on a single carrier board.
Additionally, when equipped with a USB-SIM emulator, the board can control SIM cards on a central server. This is especially useful in railway applications, where SIM card data residing on a remote server can be transferred to a system in a moving train, which then uses the corresponding network for a short time to update system information.
The F223 is both designed for -40 to +85°C operating temperature using qualified components and conformally-coated for use in harsh and mobile environments.
Pricing for the F223 is $514. Delivery is six to eight weeks ARO.
For additional information, visit http://menmicro.com/products/02F223-.html#t=overview or contact Stephen Cunha, MEN Micro Inc., 24 N. Main Street, Ambler, Pa. 19002; Phone: 215-542-9575; Fax: 215-542-9577; E-mail: Stephen(dot)Cunha(at)menmicro(dot)com.
For high res download and full text:
http://www.simongroup.com/PressRoom/press-release.php?Job=MEN-A-5956
READER SERVICE INQUIRIES: Please forward all reader service inquiries to Stephen Cunha, MEN Micro Inc., 24 N. Main Street, Ambler, Pa. 19002; E-mail: [email protected]
About MEN Micro Inc.
Since its inception, MEN Micro has focused on innovation, reliability and flexibility to develop standard and custom embedded boards and systems that employ the highest technology and innovations. The company provides a robust offering of highly reliable embedded computing and I/O solutions widely used in extreme environmental conditions found in industrial and safety-critical applications.
MEN Micro offers more than 100 standard embedded boards and systems based on Intel and PowerPC with corresponding BIOS, BSP and driver software as well as a host of custom solutions. In addition to CompactPCI, CompactPCI PlusIO, CompactPCI Serial and VMEbus SBCs, the company's products include DAL and SIL certifiable safe computer assemblies; ESMexpress, ESMini and ESM Computer-On-Modules; PMC, XMC and M-Modules as system-independent mezzanine I/O standards; box and display computers; and network components, gateways and Ethernet switches.
Starting with development, through design-in and beyond, MEN Micro provides its customers with advice and support as well as environmental qualification services in accordance with industry standards. MEN Micro is the US subsidiary of MEN Mikro Elektronik in Germany, which has over 200 employees worldwide and is a member of several industry associations, consortiums and alliances.