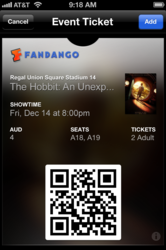 Los Angeles, CA (PRWEB) September 19, 2012
Fandango, the nation's leading moviegoer destination, today announced the availability of its popular Mobile Ticket in Apple's Passbook for iOS 6. Passbook is a simple way to get all your passes in one place. Fandango's paperless and scannable Mobile Ticket feature, now available at 2,600 screens across the country, enables moviegoers to get their movie tickets sent to their phones as mobile barcodes. With these paperless tickets, film fans can simply show their iPhone or iPod touch to the theater ticket-taker, bypassing the box office windows and kiosks. The ticket-taker then scans Fandango's Mobile Ticket for easy entrance to the fall season's hottest films.
"Mobile Ticket in Passbook is a great way for Fandango fans to keep their tickets in one place and quickly access them on their iPhone or iPod touch," said Rick Butler, Executive Vice President and General Manager of Fandango. "Fandango moviegoers can now bypass the box office at select nationwide theaters because their Mobile Ticket in Passbook will use time and location data to automatically display their scannable movie ticket as soon as they arrive."
Mobile continues to be a strong driver of traffic and ticket sales for Fandango. Mobile ticket sales for the summer of 2012 increased 116% year-over-year, and mobile purchases now account for nearly 30% of overall ticket sales on Fandango. Downloads of Fandango's popular mobile apps are also up more than 43% since this time last year, with total downloads surpassing the 26 million mark.
About Fandango
Fandango, the nation's leading moviegoer destination, sells tickets to nearly 20,000 screens nationwide. Fandango entertains and informs consumers with reviews, commentary, celebrity interviews and trailers, and offers the ability to quickly select a film, plan where and when to see it, and conveniently buy tickets in advance. At many theaters, fans can print their tickets at home or receive them as a paperless Mobile Ticket on their smartphones.
Fandango is available online at http://www.fandango.com, via smartphones, tablets and other mobile devices, and at 1-800-FANDANGO. Fandango's top-ranking movie ticketing apps, with 26 million downloads, are available on the iPhone and iPad, Android, BlackBerry, Windows Phone 7 and many other platforms. Fandango is enjoyed by more than 41 million online and mobile visitors per month. Film fans find Fandango on Facebook at http://www.facebook.com/fandango and on Twitter @Fandango.