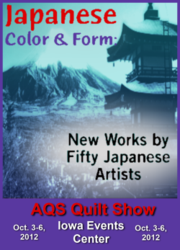 This exhibit's works shine a light on the influence of Japanese artistry into modern quilting techniques
Des Moines, Iowa (PRWEB) September 21, 2012
The American Quilter's Society presents a new exhibition, "Japanese Color and Form: New Works by Fifty Japanese Artists" at its fifth annual AQS Quilt Show & Contest in Des Moines, Iowa, October 3rd – 6th, 2012. Curated by Kokusai Art of Yokohama, Japan, this exhibit's works shine a light on the influence of Japanese artistry into modern quilting techniques.
While many of the fifty works in this exhibition are demonstrative of Japanese artistry, two uniquely Japanese elements feature strongly in the works.
Instantly recognizable as originating in Japan, the kimono has influenced fiber artists in ways well beyond traditional clothing. Miyako Suwa of Osaka, Japan, created her quilt, ONE LAST PRESENT using fabric from her mother's kimonos. Miyako's quilt features intricate hand embroidery and featherstitching, all as a tribute to her mother who passed away recently. Commenting on this piece, a viewer in Michigan noted, "It's such a beautiful tribute to her late mother."
This exhibit includes several pieces with fine examples of sashiko. This stitching style originated in Japan and permeates many Asian-inspired designs. Usually sashiko stitches appear in light or white thread against a darker background fabric. The unique stitch patterns create a stark contrast with traditional American running stitches.
Rei Saito of Tokyo, Japan, created JAPANESE SASHIKO MOTIFS, which serves as a study in many of the traditional sashiko patterns. Rei Saito reported, "Sashiko began more than 200 years ago. Women did sashiko for each season."
Whether through traditional Japanese techniques and materials or innovative new designs, the quilts coming from Japan are influencing American quilting. The American Quilter's Society is presenting this exhibit with Kokusai Art to promote the charms of Japanese quilts to a broader audience in America. AQS hopes viewers will gain an appreciation for the Japanese influence on the art of quiltmaking.
Entry to the exhibit is free with show admission to the AQS Quilt Show in Des Moines, Iowa. The show is open to the public October 3rd through 6th, 2012. Tickets start at $11, with AQS member and multi-day discounts available.