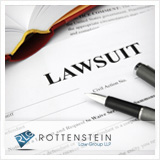 (PRWEB) September 19, 2012
According to a report filed by Law 360 on Tuesday, the estate of Shirley Boles reached a confidential agreement with Merck & Co., Inc. regarding the amount of damages to be paid by the pharmaceutical manufacturer to the late claimant's estate. The Floridian plaintiff's estate had previously been awarded $8 million by a jury in federal court in New York (case no. 1:06-cv-09455 in the United States District Court for the Southern District of New York before Judge John Keenan) as a result of the woman's having suffered jawbone death after taking the popular osteoporosis drug, but that award was later overturned.
The Rottenstein Law Group urges anyone whose friend or relative has been prescribed Fosamax or another osteoporosis drug to reach out to that person and recommend that he or she consult a physician immediately and then speak to a qualified personal injury lawyer. The Rottenstein Law Group maintains a Fosamax Lawsuit Help Center at http://www.fosamax-lawsuit.net. The site has features that allow for easy sharing, including links for automatic posting on Facebook and Twitter, specifically to enable visitors to spread the word about the dangers of Fosamax. (Attorney advertising. Prior results do not guarantee a similar outcome.)
About THE ROTTENSTEIN LAW GROUP:
The Rottenstein Law Group is a New York-based law firm that represents clients nationwide in mass tort actions. The firm was founded by Rochelle Rottenstein, who has more than two decades of experience as a lawyer, to represent clients in consumer product injury, mass tort, and class action lawsuits in a compassionate manner.
Contact:
The Rottenstein Law Group, LLP
Rochelle Rottenstein, Esq.
321 W. 44th Street
Suite 511
New York, New York 10036
(212) 933-9500 (office phone)
(212) 933-9980 (facsimile)
rochelle(at)rotlaw(dot)com
http://www.rotlaw.com
# # #