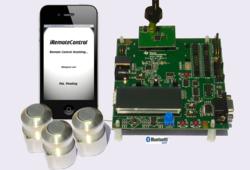 Remote control your car, garage, and other gadgets all from your iPhone!
Orlando, FL (PRWEB) September 24, 2012
Mikegyver Computer & Technologies, Inc. introduces an Indiegogo project: The iRemote Control.  The iRemote Control is an effortless new concept where anyone without technical know-how can attach the "Magic Button" actuator to any existing device (garage door openers, car remotes, automatic gate openers, automatic light switches, automatic blinds, and other devices) and control it with the iPhone app.  In all likelihood, many people have more than 2 remotes that are spread throughout the household, and people have to go out of their way just to get to it.  The more advanced users can further benefit, because they can direct wire into the device.  With iRemote Control, users have to reach no further than their iPhone or iPad.
"It's so easy to install, and coupled with the innovative iPhone app, we're set on changing the way you interface with the real world," said Mike Lee, founder of Mikegyver Computer & Tech.  "It's like the photos app on the iPhone, after you take a picture of your device, you can swipe between pictures and magically control it!  What's best about it, is that you can control almost anything right from your pocket because you'll have it with you all the time.  Think about the many times you carried your iPhone with you, but nothing else."
Mikegyver Computer & Tech hopes to get sponsor for this project ($89,250 goal) so the company can take this to production quickly.   There is also a secondary goal to get the word out and perhaps partner up with other companies that might see a fit with our device.
Mikegyver Computer & Tech (http://mikegyver.com) is known for their innovations, most notably pioneering the magsafe car solutions for the Macbook computers in 2006.
For more information, contact:
Mikegyver.com
Mikegyver Computer & Technologies, Inc.
380 S. State Rd 434
Ste 1004 - 205
Altamonte Springs, FL 32714