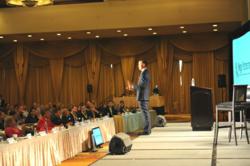 Los Angeles, CA (PRWEB) September 20, 2012
JT Foxx, serial entrepreneur, thought leader and world-renowned wealth coach, will be appearing at the annual California Women's Conference this weekend in Long Beach, at the Long Beach Convention Center.
JT Foxx, longtime supporter of entrepreneurs and small business owners, joins an esteemed panel of thought leaders and entertainers. He will impart his marketing acumen and strategies for success to attendees.
The California Women's Conference, for almost 30 years, has provided women with a forum for building successful businesses, strengthening careers, and positively influencing the world around them.
To register for the conference, please visit http://californiawomensconference.com.
About JT Foxx
JT Foxx started investing with nothing more than a rusted out Ford pick-up truck, $974 dollars and 1 cheap suit. Now just 6 years later, is a serial entrepreneur and the host of the syndicated weekend radio personality of the "J.T. Foxx Show" in the U.S. and Canada.
JT Foxx has started several multi-million dollar companies all over the world, became one the most sought after motivational speakers and recognized as one of the top wealth coaches in the world all by mastering the art of partnering, branding, networking, and marketing.