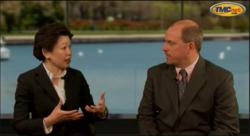 Lontoh is the embodiment of a young global leader who inspires and empowers other professionals globally.
Silicon Valley, CA (PRWEB) September 24, 2012
The Indonesian Professionals Association (IPA), a leading non-profit organization that connects and develops global leaders, today announced that Sonita Lontoh, a board member, receives the Global Emerging Leader under 40 Award. This award recognizes Lontoh's achievements and excellence in leading, advocating, and developing global leaders in the United States and abroad. She was presented with the award by Steven Pae, NAAMBA board member and Gala Chair, and Jino Ahn, NAAMBA founder and CEO, at the 4th Annual NAAMBA Leadership Conference & Exposition in Silicon Valley, California.
"I am honored to receive this award and join a group of leaders working to empower and advance young professionals globally," said Lontoh. "With rapid global growth and expansion, this is a pivotal time for the United States and countries around the world to work together to develop a strong bench of professionals and leaders who can take their societies to new heights."
"Sonita Lontoh is the embodiment of a young global leader and her vision, proven leadership and dedication made her the clear choice for this award," said Robina Singh of NAAMBA Management. "Lontoh is an inspiring advocate for leadership and has a deep passion for developing more leaders around the world. It is leaders like Lontoh who continue to inspire us to forge ahead with the mission of empowering and advancing Pan-Asian professionals globally. As these inspirational leaders, talented professionals, entrepreneurial game-changers rise to new professional heights, they are giving back to the community by cultivating and developing tomorrow's leaders today."
With more than a decade of experience in the energy and technology sectors, Lontoh is widely regarded as a green technology expert and an advocate for women leadership. She has contributed on global energy and women's leadership topics in various conferences and publications such as Forbes, MIT Entrepreneurship Review, and the Jakarta Globe.
In addition to her work at a leading Silicon Valley smart grid technology company, Lontoh is a professional mentor for the U.S. Department of State's TechWomen program. Launched by Secretary of State Hillary Clinton, TechWomen builds on her vision of "smart power" embracing the full range of diplomatic tools, in this case technology, to bring people together for greater understanding and to empower women and girls worldwide.
Lontoh is also involved with the Silicon Valley Leadership Group, the U.S. Department of Energy/MIT's Clean Energy Education & Empowerment (C3E) initiative, and is currently serving as a board member for several non-profit and professional organizations.
###
About IPA
IPA is a non-profit organization whose mission is to provide a forum to empower and advance professionals to reach their full potential as leaders. IPA accomplishes this by enabling professional enhancement and networking opportunities among its diverse group of highly-skilled professionals. IPA members come from various sectors including high-tech manufacturing, finance/banking, start-ups, information technology, biotechnology, logistics/transportation, and engineering. While the majority of IPA's members are of Indonesian-descent, IPA is an open and all-inclusive organization that welcomes all professionals seeking to reach new leadership heights. For more information, please visit http://www.ipanet.org.