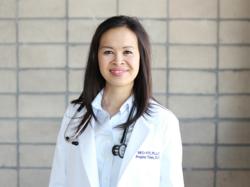 Denver, CO (PRWEB) September 21, 2012
Dieting is a notoriously fickle business. Everyone begins every year trying to lose weight, but few keep up with their programs past the end of January. Numerous self-help diet guides exist, but some say the failure rate for self-started diets is as high as 95%. Dr. Angela Tran founded her clinic, Med-Fit Medical Weight Loss Center, to give people an option for healthy, long-lasting weight loss.
According to Dr. Tran, "My typical patients would be women 18 and older, although I also work with men. A lot of them have metabolic conditions like diabetes, PCOS, high blood pressure, and high cholesterol.
"Research has shown that patients are more likely to be successful under the supervision of a physician in an organized program."
Med-Fit offers three components that Dr. Tran describes as essential to weight loss success:
1. A comprehensive diet plan
2. On-site training center with a personal trainer
3. Physician supervision
Dr. Tran explains why physician supervision is crucial, "not only are you losing weight, but [a physician] can address the metabolic conditions and any other medical conditions that can serve as barriers to weight management."
Med-Fit offers three levels of customized diet plans, ranging from simple dietary advice to meal templates to actually providing prepared food to ensure proper proportions and nutrients.
Obesity is a nationwide epidemic, with more than two-thirds of the adult population either obese or overweight. Colorado has the lowest obesity rate in the nation, but still more than 1 in 5 Coloradans (20.7%) are obese, a rate that continues to grow.
About Med-Fit
Med-Fit Medical Weight Loss Center is a weight loss clinic dedicated to healthy principles for long-term patient success. This includes an emphasis on diet and exercise under the supervision of a physician and other specialists to ensure weight loss programs are effective, safe, and tailored to the individual needs of patients. It was founded in 2012 by Dr. Angela Tran.