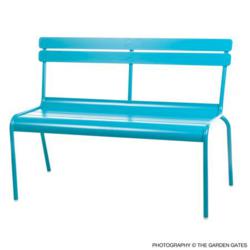 ...it introduces high design and a sense of stability to even the unruliest garden.
Metairie, LA (PRWEB) September 21, 2012
Garden benches are an important aspect of decorating gardens and outdoor areas, and they are applauded by designers Matthew Patrick Smyth and Amanda Nisbet in the article "10 Most Gorgeous Garden Benches" by Helen Yun on ElleDecor.com. Garden benches provide seating, but it goes deeper than that. Outdoor benches add another texture and color to a garden area and act as an important element to landscaping and design. The Luxembourg garden bench is no exception, with its clean lines and aesthetic appeal, it introduces high design and a sense of stability to even the unruliest garden.
The Luxembourg collection by Fermob is a beautiful group of furniture designed by Frederic Sofia and inspired by the historic Jardin du Luxembourg in Paris. The Luxembourg bench and other pieces in the collection are made from lightweight lacquered aluminum and tubular steel frames.
Fermob outdoor lounge is a creative company that makes the best in attractive and comfortable furniture for the outdoors. Fermob celebrates all that is the outdoors and the art of outdoor living. Each piece of patio and outdoor lounge furniture is treated to withstand the sun, wind, humidity and other elements of nature for long lasting style and enjoyment in any outdoor area.
About The Garden Gates:
Founded by Jacqueline Elizabeth Kendall-Harris and Chad Harris in 1999. Jacqueline plays an instrumental role in product development, interior design and the developing the core principles of The Garden Gates lifestyle. Chad plays an instrumental role in the creativity of the brand, marketing and technology of the business.
For more information, please visit http://www.thegardengates.com or call 877-780-6699.
Source: http://www.elledecor.com/shopping/the-10-most-gorgeous-garden-benches-a-56225?click=main_sr