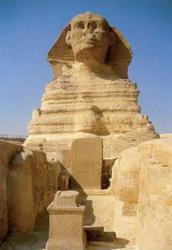 I believe traveling overseas is still safer than driving on an American freeway any day of the week.
Los Angeles, California (PRWEB) September 21, 2012
The recent protests at U.S. embassies in the Middle East has triggered new travel advisories and caused some U.S. travelers to reconsider or even cancel travel plans that are months away, but travel experts say media reports may be blowing the "civil unrest" out of proportion.
Halle Eavelyn, a travel expert who leads spiritual tours to exotic locations like Bali, Mexico, Spain, and Egypt, has personally been in what many might call the "wrong place at the wrong time" on more than one occasion, but she says in all her travels she has never felt unsafe, and she still believes that traveling abroad is safer than driving on a U.S.freeway.
"The media likes to focus on hard-hitting stories, and fear sells. During the unrest leading up to the parliamentary elections I was in Egypt, cruising on the Nile with a group of 30, and yet U.S. news reports were leading people to believe that the entire country was unsafe. It was simply not true," Eavelyn says.
Last week's news reports about the embassy protests in Egypt have caused the phones to ring at Spirit Quest Tours, with a few concerned travelers wondering if they should back out of the company's December pilgrimage to Egypt.
Eavelyn says she has no reason to believe that there will be problems in Egypt in three months when the tour group arrives to witness the once-in-a-lifetime planetary alignments. As a result, she's encouraging her customers to hang in there and avoid cancelling too soon.
"Think of it this way. A few weeks ago New York was dealing with nine people who were hit by stray bullets from local police, but no one was cancelling their travel plans to Manhattan, and the streets around the Empire State Building where the shooting occurred were reopened within a few hours. Cairo is a city with 18 million people in it on any given day. A few hundred protesters centered at one particular locale is not going to impact the rest of the city, let alone the outlying countryside. There is no reason to assume it will be unsafe," she says.
Travel insurance companies are quick to note that it is extremely unlikely that you will be killed or injured while traveling abroad. The statistics are simply miniscule, according to insurance provider Travel Guard, especially when compared to the every day chance of having a car accident at home. Trip insurance usually covers trip interruption, medical emergency assistance or trip cancellation due to unforeseen changes in your health or travel plans. It may not cover acts of terrorism or civil unrest, so you will need to read the fine print on your specific travel insurance policy.
On the plus side for travelers: airfare rates tend to drop slightly when travel demand declines. You can fly to Egypt right now for less than you can fly across the United States. You also might find discounts on cruise ships and less crowded conditions at some of the world's most popular tourist attractions.
The key, Eavelyn says, is to travel with professional tour guides in a group. In addition to providing safety in numbers, professionals also have precision-like planning for contingencies. Luxury travel packages may also include private security, which while typically unnecessary, tends to calm traveler nerves.
"Safe travel rules always apply, whether you're in the U.S. or abroad. It's always best not to travel alone, and when you're in a foreign country, professional tour guides make sure you don't accidentally wander into an unsafe area," she says.
Eavelyn has traveled to Egypt nearly 20 times in the last ten years and says she has never had anything other than a safe, spiritually-fulfilling experience.
"Terrorism wins when it instills fear in us. Our guests prefer to kick it in the pants and become an ambassador of peace," she says.
The bottom line, say travel experts, is to go with your gut. If you're really, truly scared, do yourself a favor and cancel your trip. But if you have been looking forward to seeing the planets align in the Valley of the Kings or any other foreign travel, do your research, decide based on facts, and don't miss the experience of a lifetime.
For more information on Spirit Quest Tours, visit http://www.spiritquesttours.com
-end-
About Spirit Quest Tours
Spirit Quest Tours offers life-changing spiritual travel to some of the most fascinating, and often misunderstood, places on Earth. Expert tour guides create these trips to introduce travelers to new lands and cultures and to broaden the understanding of the world around us. Call 877 406 5206 for more information, or visit SpiritQuestTours.com.
Halle Eavelyn is the author of Red Goddess Rising, which follows her transformation from reluctant tourist to her new life guiding other travelers though the mysteries of ancient spirituality. Published by Spirit Quest World, the book is available from the publisher, at Barnes & Noble and on Amazon.com.
Media Contact: Connie Holubar, OutreachPR, 903 498 8586, or connie(at)outreachpr.com