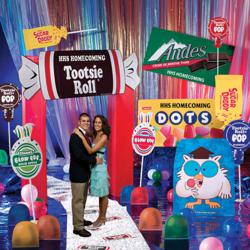 South Whitley, Indiana (PRWEB) September 19, 2012
Shindigz sweetens its product offerings by adding a new line of party supplies featuring Tootsie Roll Industries' candies. Jacquie Downey, Director of Sales and Marketing for Shindigz says, "We're delighted to expand the possibilities for planners who'd like to decorate with licensed, brand candy props and personalize them, too."
The new additions to Shindigz' candy party items are particular timely for coordinators of Halloween dances searching for alternative decor to the grim and scary. Downey explains that, "colorful candy decorations interest not-so-scary, Halloween enthusiasts and trick-or-treaters who love candy. The Tootsie Roll theme is attractive to kids, parents, and even school administrators."
Homecoming, Christmas, Quinceañera, sweet sixteen, and prom party coordinators will find many decorating and gifting uses for the theme's personalized Tootsie Roll party supplies. The theme's easy-to-assemble, Tootsie Roll arches, backdrops, and gum ball pathways add cheerfulness to any room.
"We are thrilled that Shindigz has joined our Tootsie Roll licensing family," says Tootsie Roll Industries President Ellen Gordon. "We know from consumer inquiries that there is pent up demand for Tootsie candy-themed event décor. "
Featured large standees, banners, favors, props, and decals include iconic, Andes Mints, Blow Pops, Charms, Fluffy Stuff Cotton Candy, Dots, Junior Mints, Sugar Babies, Tootsie Rolls, and even Tootsie Pop's Mr. Owl.
Tootsie Roll Licensing Agent Cynthia Hall Domine of Synchronicity adds, "Our Shindigz giant cut-out Tootsie Pop and Blow Pop "garden" was the star of our trade show booth this year. Tootsie candy cut-outs, banners and favors are the perfect addition for any festive event – male or female, young or old."
The Tootsie Roll line of candy décor and favors are available today at Shindigz.com.
About Shindigz
Shindigz "makes life more fun"! Since 1926, over 22 million events throughout 59 countries have been reached through the party supplies shipped from South Whitley, Indiana. With more than 36,000 products, Shindigz, a family-owned company, provides customers with complete party solutions.