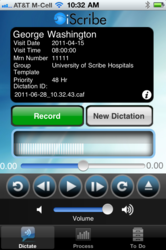 "We have tried so many other devices in the past, but Scribe Mobile is by far the best," said Judy Mathews, Practice Manager for Prairie Cardiovascular
Lake Forest, IL (PRWEB) September 21, 2012
Scribe Healthcare Technologies, Inc., has released a revamped and upgraded version of its mobile dictation application, Scribe Mobile. As one of the first platforms to introduce a customized mobile dictation app for healthcare providers, the latest version has improved functionality and several new features.
The application was initially intended for Scribe platform users only, but can now be used as a stand-alone dictation system. Healthcare providers can record sound files on their iPhone, iPad, and iPod Touch devices and promptly retrieve them from a secure FTP site.
"We have tried so many other devices in the past, but Scribe Mobile is by far the best," said Judy Mathews, Practice Manager for Prairie Cardiovascular. "The time and cost savings have been huge since we got rid of our previous system. Scribe Mobile offers flexibility and our doctors are no longer tied to their computers." The mobile dictation application has a smart, new look for ease of dictation and use. Dictators can rewind, playback and re-record over an existing dictation by navigating to the exact location of a voice file with the familiar slide bar typically found on all iOS devices. Similar to other dictation devices, there are two buttons that jump backward or forward 5 seconds as well.
The original app enabled dictators to specify priorities for turn around, select a template/report type and view the physician's schedule. "We love the patient schedule," said Judy Mathews. "It makes it so much easier on our transcriptionists. All the patient information is right there so they don't have to go through the voice files to find the patients and their stats." Additional new features include the ability to select a template from another facility and the ability to dictate on a patient's file within the same provider's organization. For referring and collaborating doctors, these features have expanded accessibility and improved the quality of patient documentation. "Although our doctors don't dictate outside of the office much, the dictation app is nice to have when they are at the hospital so they can dictate to charts," said Kathy Ledbetter, Practice Manager for Michael O. Lagrone, M.D. "This system has been like a lifesaver," continued Kathy Ledbetter. "Digital dictation with online transcription has really streamlined our office. The hours we spent on our archaic system and the long days every week are now alleviated."
The improved version enables device users to continue to receive phone calls, texts or messages while they are dictating without interruption to the voice file. Dictators can also dictate up to a 20-minute voice file from any location with or without connectivity. A new upload button on the dictation screen also allows immediate file transfer without moving to a new screen. However, many users take advantage of the batch upload feature, which lets users dictate offline or at their convenience and send files in batches. "One of my physicians waits until he gets home to send all his voice files," said Bryan Rose, President of Rose-Text, Inc. "The batch upload has worked really well."
About Scribe Healthcare Technologies, Inc.
Scribe Healthcare Technologies, Inc. is a privately-held, healthcare technology company based in the Chicago, IL area. The company has developed a proprietary "Cloud-based" platform that centers on medical documentation solutions to deliver physician narrated content to the electronic medical record. Scribe's platform includes complete solutions for dictation, transcription, voice recognition, document management, healthcare information exchange, and reporting with data analytics. Scribe offerings include both computer and mobile solutions. Scribe serves more than 30,000 users. Business partners and resellers include consulting firms, transcription companies, and business process outsourcers. Additional information is available at http://www.scribe.com.
XXX