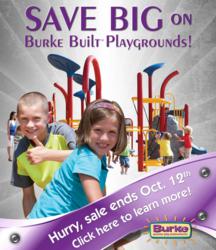 Fond du Lac, WI (PRWEB) September 21, 2012
To help celebrate back to school time for kids, BCI Burke is ramping up playground savings on the most popular structures. Burke's Nucleus, Intensity, NaturePlay, Voltage and Little Buddies play systems are featured in the "Save Big" flyer, along with an array of play favorites –Burke Basic spinners, slides, swings and panels. The exclusive Burke Turtle Top is also included in the promotion.
In order to take advantage of the remarkable savings on these Burke Built playgrounds, orders must be entered by October 12th, 2012 and ship by December 21st, 2012. Visit http://www.bciburke.com/save-big.
Creating playgrounds since 1920, BCI Burke is a premier manufacturer of commercial playground, park, and recreation equipment and an avid supporter of children's play and safety. All products are supported by the unparalleled Burke Generations Warranty that provides 100 Year Limited Warranty on posts, 100 Year Limited Warranty on hardware and 5 Year Limited Warranty on moving parts.