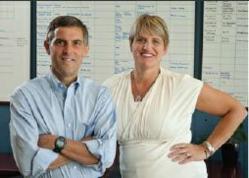 Lambertville, NJ (PRWEB) September 20, 2012
TayganPoint Consulting Group has been named one of New Jersey's 2012 50 Fastest Growing Companies. The award program produced by NJBIZ, New Jersey's premiere business news publication, is presented by ParenteBeard and sponsored by PNC Bank and UnitedHealthcare.
TayganPoint is a management consulting firm specializing in strategy alignment and execution, process improvement, change management and communication, and program and project management. Headquartered in Lambertville, NJ, TayganPoint partners with their clients to help improve business performance and achieve measurable, sustainable value.
The NJBIZ 50 Fastest Growing Companies awards program celebrates New Jersey's most dynamic companies who progressively contribute to the success of the state's economic growth and stability
NJBIZ and the program sponsors will honor this year's 50 fastest growing companies and announce their ranking during an awards dinner and ceremony on Tuesday, November 13, 2012 at the Palace at Somerset Park in Somerset, New Jersey. The honorees will also be highlighted in a special supplement to NJBIZ on November 19, 2012.
For more information about TayganPoint Consulting Group please visit us on the web at http://tayganpoint.com or contact Allison Kuronya at [email protected] or 609.460.4211.
For more information about the NJBIZ 50 Fastest Growing Companies awards program or to register for the event, please visit http://www.njbiz.com/events or contact Melissa Sullenberger at [email protected] or 732.246.5737.