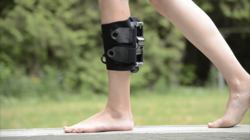 "There aren't very many, if not any medications that are effective in improving walking distance in P.A.D. patients. We are evaluating the Venowave as one potential way to improve the walking distance of patients with intermittent claudication."-Dr. Anand
Stouffville, Ont. (PRWEB) September 20, 2012
A research team at McMaster University is trying to find ways to improve the well-being of individuals affected by Peripheral Arterial Disease or P.A.D.
Eight million Americans and close to a million Canadians are affected by the disease. As September marks Peripheral Arterial Disease (P.A.D.) Awareness Month, the team of Dr. Sonia Anand, cardiovascular expert and professor at the university's Department of Medicine, are doing clinical research on a non-invasive medical device that could potentially improve walking distance of patients with P.A.D.
Dr. Anand says that current medications for P.A.D. for the purpose of improving walking distance are limited.
"There aren't very many, if not any medications that are effective in improving walking distance in P.A.D. patients," Dr. Anand says.
P.A.D. is one of the most common cardiovascular diseases. It happens when arteries in the legs become narrowed with fatty deposits, or plaque. Hardened and clogged arteries reduces blood flow to the legs.
Common symptoms of P.A.D. include muscle fatigue and cramping - also known as intermittent claudication. As such, P.A.D. affects normal, overlooked simple day-to-day physical activities such as walking. Depending on the person and degree of blockage, walking distance varies between P.A.D. sufferers.
Dr. Anand, however, has been teaming up with entrepreneur and inventor, John Saringer, doing clincial studies at McMaster on the latter's invention, the Venowave, which could potentially help improve walking distance of P.A.D. patients.
"We are evaluating the Venowave as one potential way to improve the walking distance of patients with intermittent claudication," says Dr. Anand of the device.
The device, which is approved by the FDA, Health Canada and CE marked, was originally made for use to prevent Deep Vein Thrombosis (DVT) or blood clots in the legs. However, Saringer says there is also a possibility that the Venowave can alleviate symptoms caused by P.A.D. - including intermittent claudication.
"Since D.V.T. and P.A.D are both manifestations of poor blood circulation especially in the legs, the Venowave can possibly help ease the effects of other circulatory problems affecting this part of our body including symptoms brought by P.A.D," says Saringer.
"It works to prevent DVT and now we'll see if it improves walking distance," adds Dr. Anand.
P.A.D. affects arteries which pushes blood back down to the feet. D.V.T. targets the veins which pushes blood back up to the heart. Both veins and arteries exist side by side in our legs.
The compact battery-operated device utilizes a peristaltic pump that generates a wave-form motion. When worn firmly around the calf using the adjustable straps, the device produces an upward volumetric displacement of blood which translates into increased arterial and venous flow.
Aside from the being a noninvasive device, Dr. Anand commends it for its portability allowing patients to live an active lifestyle.
"I think the big advantage of the Venowave is, it is a portable device and it's battery operated so individuals can carry on with their usual activities without having to sit down or to be plugged into a wall or hooked up to a machine so I think that is a huge advantage of the Venowave," she says.
P.A.D. serves as a warning sign that other arteries in the body including the heart and the brain may be blocked which hints to an imminent heart attack or stroke. Smokers and diabetics are more susceptible to developing P.A.D.
Like any usual treatment for health-related issues, maintaining a healthy lifestyle is key. There are few instances where treatment includes medication and surgery for P.A.D. If not treated and diagnosed early, affected limbs can result in amputation.
Saringer Life Science Technologies is a privately-owned company founded by engineer/inventor, John Saringer. John works extensively with leading physicians/surgeons in the development of new and improved medical treatment devices in the fields of DVT prevention, vascular solutions, wound healing intervention and pain management. For more information, please visit http://www.venowave.com.