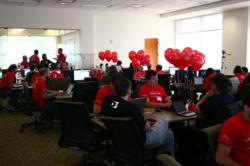 Hats-off to Dominion Enterprises for convening coding and design teams to create apps to support teachers. -- Eric Williams, superintendent for York County School District
Norfolk, VA (PRWEB) September 19, 2012
Dominion Enterprises will hold its fourth hackathon this week, a brief but intense period of innovation and collaboration aimed at helping educators. Teams of software programmers, graphic designers, product developers, and marketers will gather in Dominion Enterprises' corporate office in downtown Norfolk, and channel their creative energies into mobile applications for learning. At the end of the event, new products will have been created for schools and teachers, and a panel of judges will award prizes based on how well teams met specific criteria.
With only two days to build a working app, teams will leverage resources such as The Learning Registry (http://www.learningregistry.org/) and mentors from the U.S. Department of Education. The Learning Registry provides open access to a wealth of learning data, and the projects resulting from the Dominion Enterprises hackathon will become part of a large community that supports The Learning Registry. The U.S. Department of Education will bring staff familiar with The Learning Registry to the event, to ensure that teams are able to efficiently and effectively use this resource.
"Each new hackathon brings us closer to our goal of finding new ways to showcase innovation at the company, while becoming more involved in the surrounding technical community," said Joe Fuller, chief information officer for Dominion Enterprises. "We all owe a debt to teachers at some point in our lives, and I hope this hackathon generates useful tools for the classroom. It's fitting that we are able to include high school and college students in the event, observing and working with our employees to create new products."
Applications and code created during the hackathon will be made publicly available after the event, to foster ongoing development within the open-source community, the U.S. Department of Education, and school systems nationwide.
"Hats-off to Dominion Enterprises for convening coding and design teams to create apps to support teachers," said Eric Williams, superintendent for York County School District, which nominated four students to participate in the event. "By providing an opportunity for high school students to work alongside professionals in doing meaningful work, this event both extends students' coding skills and reinforces their interest in the field of STEM (Science, Technology, Engineering, and Math)."
The "Apps for EDU" event will take place Thursday, September 20 from 9 a.m. until midnight, and Friday, September 21 from 9 a.m. until 5 p.m. Teams will showcase their work on Friday afternoon for judges and colleagues. Meals will be provided during the event for participants and guests, as well as fun activities like raffles and video games.
About Dominion Enterprises
Dominion Enterprises is a leading marketing services and publishing company serving the automotive, recreational and commercial vehicle, real estate, apartment rental, employment, parenting, and travel industries. Headquartered in Norfolk, Virginia, with 3,300 employees in the United States, Canada, England and Italy, the company provides a comprehensive suite of technology-based marketing solutions, and more than 45 market leading websites. Millions of For Rent®, Employment Guide® and HotelCoupons.com® publications are distributed across the U.S. each year. For more information, visit http://www.DominionEnterprises.com.
Media Contact:
Matt Paddock
757-351-8109
pr(at)dominionenterprises(dot)com
###