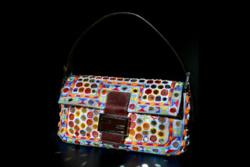 Designer handbags typically do not go out of style, which is good because they can last for many years.
(PRWEB) September 24, 2012
Rodeo Drive Resale (http://www.shoprdr.com), premier reseller of 100% authentic Fendi handbags, Bottega Veneta purses and Louis Vuitton wallets, shopRDR.com is celebrating the 15th anniversary of the iconic Fendi Baguette and highlighting similar clothing and handbag designers adored by luxury lovers around the globe.
1) Fendi –Launched in 1925 by Edoardo and Adele Fendi, the Italian fashion house started as a fur and leather shop located in Rome. Popular among the rich, influential and stylish, Fendi has become an industry powerhouse, and as of 2005, boasted an astonishing 117 stores worldwide. The Fendi Baguette, launched in 1977, is more than a bag: Conveniently tiny yet roomy shape with a separable strap and a double 'F' clasp, the Fendi Baguette has become a fashion staple for the stylish woman on the go.
2) Louis Vuitton – Every luxury bag lover has their preference, but most agree: When it comes to style and status, few brands can match the reputation of this French fashion label. Vintage Louis Vuitton bags, wallets and accessories have become the gold standard for sophistication, and as the label looks to maintain its position as the premier fashion brand among China's growing luxury market, demand for LV, founded in 1854, remains as strong as ever. Because of their uncompromising selling strategy (LV has not had a sale in 154 years), midrange shoppers looking for a deal flock to sites such as ShopRDR.com, which offer buyers the opportunity to buy or sell 100% authentic designer handbags at a fraction of the cost.
3) Chanel – Founded in the early 20th century by fashion visionary Gabrielle "Coco" Chanel, the Chanel clothing and accessories are adored for their elegance and versatility. The Chanel 2.55 shoulder bag was first released in 1955, after Coco decided she needed a bag to free up her hands. Updated in 2006, the bag remains wildly popular among Chanel lovers around the world.
4) Gucci –Exclusive, luxurious and instantly recognizable, Gucci, established in 1921, has become a status symbol for the rich and powerful. Worn by such iconic figures as Hollywood starlet Elizabeth Taylor and former First Lady Jacqueline Kennedy, the Italian company's line of timeless handbags continue to resonate with buyers of upscale fashion, as the Gucci Hobo Bag has become a fast favorite among brand loyalists.
Lovers of designer bags (and baguettes) are invited to visit shopRDR.com, where they can find amazing savings on one of fashion's greatest investments, noted shopRDR.com co-founder Raya Jaffer: "Designer handbags typically do not go out of style, which is good because they can last for many years."
Rodeo Drive Resale (shopRDR.com) has built a reputation of providing amazing deals on handbags, clothing and accessories from the top designers of upscale fashion. The company offers a 100% guarantee of authenticity on each item sold, and works daily with a network of clients looking to buy, sell, or for consignment of their luxury goods. ShopRDR.com loves high-end fashion, and believes finding a high quality, classic piece should be an easy, enjoyable -- and most importantly -- hassle-free shopping experience. For the finest in Louis Vuitton, Chanel, Prada, Gucci, St. John Knits, Christian Louboutin, Tiffany & Co. and more, visit RDR online at http://www.shopRDR.com or call 1-888-697-3725. Also find shopRDR.com's blog at http://blog.shopRDR.com.
Also find shopRDR at:
Blog: blog.shopRDR.com
Facebook: facebook.com/shopRDR
Twitter: twitter.com/shopRDR
YouTube: youtube.com/ shopRDR
Pinterest: pinterest.com/shopRDR
Rodeo Drive Resale (shopRDR.com)
1-888-697-3725
service (at) shopRDR (dot) com