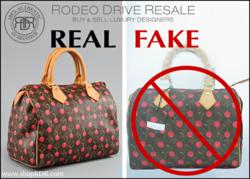 Web sites may use any number of phrases to describe the type of merchandise they carry, but the phrase '100% authenticity guarantee' is one of the most important when shopping for high end designer brands.
(PRWEB) September 28, 2012
The international crackdown on phony goods continues as authorities from around the world are seizing fake apparel in record numbers. Rodeo Drive Resale (http://www.shoprdr.com), premier reseller of 100% authentic Chanel purses, Christian Dior heels and Louis Vuitton wallets, advises lovers of luxury fashion to always buy authentic and gives tips on how to avoid being fooled by imitations of top designer brands.
With reports of counterfeit seizures in South Africa, the United Kingdom and, more recently U.S. Department of Homeland Security's i investigation into an alleged scheme to import and sell fake sports apparel in Rhode Island, reminds shoppers of a few things to keep in mind when purchasing discount designer goods.
1) GET TO KNOW MERCHANTS OF FASHION: When completing a transaction over the internet, a Web site is getting more than your money: The results of giving your name, credit card, e-mail, and mailing address to an untrustworthy vendor can be disastrous. Start by Googling the name of the company and see what turns up. The Better Business Bureau can be a powerful tool for consumers looking to check the validity and reputation of businesses both on and off the internet.
2) STUDY THE LANGUAGE OF FASHION SALES: Web sites may use any number of phrases to describe the type of merchandise they carry, but the phrase '100% authenticity guarantee' is one of the most valuable when shopping for luxury brands. This is because, in the fashion world there is a difference between counterfeits and knockoffs: The former being an outright imitation of an existing product right down to the designer logo, the latter, a product simply "inspired by" another, more popular creation. Clothing does not have copyright or trademark protection, which makes knockoffs legal to sell – so long as they are not "inspired" to use another brand's logo. Sellers of counterfeits, however, bypass all assertions of inspiration and attempt to convince buyers they are purchasing an authentic item. Therefore, be sure to identify a logo, trademark and guarantee of authenticity when considering an online purchase.
3) KNOW YOUR ITEM'S TRUE WORTH: The devil is in the detail, and most counterfeit handbags and eyewear lack the attention to detail and quality of the high-priced items they attempt to mirror. The error in duplication can be as minor as improper stitching or as obvious as a misspelling of the original designer's name. When shopping online for a luxury pieces such as a designer handbag, the sale price can also be an indicator of whether or not the item is genuine. Any item priced significantly below retail is probably too good to be true and possibly fake. Keep a tab of an item's true value before jumping at a sale. Lastly, accessory pieces such as luxury watches and sunglasses typically have a serial number, which should be provided by the supplier either by photo or request prior to completing an online purchase.
4) INQUIRE ABOUT RETURNS/REFUNDS: A seller that refuses to accept a return under any circumstance ought to raise a red flag. People make returns for a number of reasons: The item appeared larger online, or perhaps the color seems a little off, or it may just be a good old fashioned buyer's remorse. Whatever the reason, most reputable sellers allow buyers to request their money back if they are not happy with their purchase. The length of time allowed for returns may vary, but be wary of any Web site that seems more interested in completing a one-time transaction than earning your respect and continued business.
5) DUE DILLIGENCE: Even after researching a seller, inspecting the photos and verifying the serial and model number of an item purchased online, for many, the true test of a product's authenticity comes when it is in their possession. If an online shopper has done their research thoroughly, yet cannot shake the feeling that things are a little off, there are authentication services available online that may help ease fears about an online purchase. Similarly, there are online manuals as well as videos on YouTube which help guide consumers evaluate products from such high end brands as discount Prada, Gucci, Burberry, Chanel and others.
Rodeo Drive Resale (shopRDR.com) has built a reputation of providing amazing deals on handbags, clothing and accessories from the top designers of upscale fashion. The company offers a 100% guarantee of authenticity on each item sold, and works daily with a network of clients looking to buy, sell, or for consignment of their luxury goods. ShopRDR.com loves high-end fashion, and believes finding a high quality, classic piece should be an easy, enjoyable -- and most importantly -- hassle-free shopping experience. For the finest in Louis Vuitton, Chanel, Prada, Gucci, St. John Knits, Christian Louboutin, Tiffany & Co. and more, visit RDR online at http://www.shopRDR.com or call 1-888-697-3725. Also find shopRDR.com's blog at http://blog.shopRDR.com.
Also find shopRDR at:
Blog: blog.shopRDR.com
Facebook: facebook.com/shopRDR
Twitter: twitter.com/shopRDR
YouTube: youtube.com/ shopRDR
Pinterest: pinterest.com/shopRDR
Rodeo Drive Resale (shopRDR.com)
1-888-697-3725
service(at)shopRDR.com