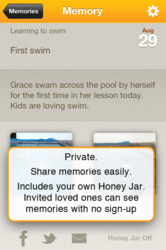 Capture the 'I gotta remember that' moments without the privacy concerns, interruptions or annoyances of a social network
San Diego, CA (PRWEB) September 24, 2012
Memory Hive today announced its inaugural mobile app and website that lets consumers do more with their memories. Memory Hive (http://itunes.apple.com/us/app/id536812099) is a comprehensive app that helps consumers capture, share and celebrate life's precious moments – the big little memories that are often forgotten, or left just sitting on our phones – in a completely secure and private environment.
Whether it's a child's first bike ride, a hilarious quote from a four-year-old's mouth, a milestone birthday or simply a day at the playground, the Memory Hive app enables users to save the moment, share with loved ones and create highlight reels on the go. Memory Hive automatically backs them up to memoryhive.com to keep them safe and never forgotten. It's simple, safe and private.
Memory Hive understands that privacy, unprotected data and uncontrolled sharing are the top reasons why apps are not used. In fact, a recent Pew Internet Project survey found that 54 percent of mobile users have decided to not install an app when realized they had to share personal information to use it (http://pewinternet.org/Reports/2012/Mobile-Privacy.aspx). Privacy is of utmost concern to Memory Hive, which is why the app and website are 100% private and secure.
Memory Hive helps make sure unforgettable moments are safe by offering several key features:
Sharing Though the Personalized Honey Jar – the "Anti-social Network"
Unlike many apps, Memory Hive does not require any address book uploading, friending, following, connecting or commenting to share photos, videos and memories. Memory Hive is not a social network. Users retain complete control of their privacy, sharing easily at their discretion, either via Twitter, Facebook or email, or through Memory Hive's proprietary "Honey Jar," a personalized web page that can be customized with whichever memories chosen. Invited family members can easily see or read shared memories without having to sign up or download the app. All memories are 100% private until they are chosen to be shared.
Storing Into Hives
Every photo or video memory downloaded to the app from users' Photostreams or Facebook Photos is automatically saved to MemoryHive.com, as are written memories, providing instant back-up and protection. Users can create "Hives" from events or similar-themed moments, add notes and funny commentary, to organize great memories and make them easier to access.
Celebrating with Highlight Reels
Memories shouldn't only be stored and shared, but most importantly, celebrated. Users can create their own Highlight Reels from their favorite moments to create compilations to enjoy and share with family and friends. All photos, videos and Highlight Reels can also be played on Apple TV for bigger-screen celebrations.
Memory Hive Extras
Memory Hive lets you save the way you want. Jot down quick snippets to capture cute kid quotes, personal anecdotes, travel memories or family stories directly into the app, and create an instant and ongoing record of memories. Attach a photo or video if desired. The app also offers lets users add special effects to photos and turn them into physical postcards to be sent to any address in the world.
"As a dad, there were countless times I found myself saying, 'I gotta remember this moment,' but never had an easy and safe way to document them in a centralized location. Memory Hive is your place to remember anything you want without the interruptions or privacy concerns of a social network," said Kent Olson, CEO of Olson Ventures, LLC and creator of Memory Hive. "We wanted to make it easy to turn all the 'I gotta write that down' times into moments that are preserved for generations. We're really pleased to be able to offer a product that helps people remember life's memories and make them even sweeter."
Pricing
Memory Hive is available from iTunes for the introductory price of $1.99 (regularly $2.99) (http://itunes.apple.com/us/app/id536812099). The app is ad-free and comes with 50 MBs of backup storage. For 500 MBs of additional storage, an in-app purchase is available currently for $9.99.
For a short demonstration of the video's features, please visit http://www.memoryhive.com (available at http://www.youtube.com/watch?v=pHTu_1UC-N4&feature=youtu.be). To download a press kit with screenshots, please visit http://www.memoryhive.com/pages/press.
About Olson Ventures, LLC
Founded in 2011, Olson Ventures, LLC is a mobile application developer headed by former RedEnvelope.com General Manager and VP Kent Olson. The company's inaugural Memory Hive app helps consumers do more with their memories by enabling them to store, share, save and celebrate with the app's unique memory preservation features. For more information, please visit http://www.memoryhive.com, or visit the app's Facebook and Twitter pages.