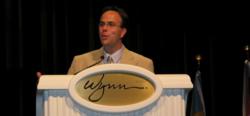 John Nemo is the voice of collection agencies nationwide.
St. Paul, Minnesota (PRWEB) September 25, 2012
Former ACA International PR Director John Nemo announced the formation of a new debt collection marketing agency - Nemo Media Group - that aims to help collection agencies increase revenue, win new clients and enhance/protect their brand online.
"Having worked in the credit and collection industry and having won national PR Awards during my time at ACA International, I felt like I had a rare - and valuable - mix of industry-specific experience and proven success to offer agencies," Nemo said. "I think it's an edge very few - if any - other marketing groups or individuals can offer to debt collection agencies. Don't you want to do business with someone who is all about you? Someone who understands the nuances of debt collection and the unique PR, Social Media and Marketing challenges you face as a collection agency, debt buyer, attorney or creditor?"
Nemo used to work as the PR Director for ACA International, the Association of Credit and Collection Professionals, which represents more than 5,000 debt collection agencies, creditors, debt buyers, attorneys and vendor affiliates.
"During my time there, I helped create and launch Ask Doctor Debt, the consumer financial literacy phenomenon that led to more than 125 interviews across the United States, reaching an estimated 25 million consumers and netting an estimated $1 million in free advertising/publicity value for ACA and its members," he said. "I also was able to secure a weekly, ongoing segment for "Ask Doctor Debt" on top-rated Fox News Channel's 'Happening Now' program that ran for more than four months straight during the spring and summer of 2009."
Nemo now looks to leverage that industry expertise, experience and skill set as the owner of Nemo Media Group, which he says "provides a one-stop shop for everything your debt collection agency needs.
"We handle Marketing, PR, Video, Social Media, SEO, Sales/Lead Generation Tools, Content Writing (Brochures, Blog posts), Website and App Development, RFP writing and more," Nemo said. "I also leverage a massive, national network of industry contacts – including creditors, vendors, reporters, agency owners, attorneys, debt buyers and executive recruiters – to expose my clients to numerous media opportunities, partnerships and business development opportunities along the way."
One of those clients, Tom Backal of PatientFirstCollections, had this to say: "John Nemo is the voice of collection agencies nationwide, and I for one can say that I feel fortunate to have such a strong voice representing our industry. In the many years that I have known John he never stops amazing me with his creativity, positive energy and passion for perfection! You will not meet a person that has a higher level of integrity or greater gift for trade than John Nemo. He is truly one of a kind."
Nemo said his goal is to help his clients successfully leverage public relations, social media, video and other marketing tools to increase their revenue, win new clients and enhance their brand online.
"It's a whole new era for the debt collection industry," he said. "The ability to tell your own story has never been easier thanks to the advent of Social Media and devices like the iPhone. We're literally living in the biggest communications revolution since the printing press was invented. And it's exciting for me to help the members of an industry that is so often misunderstood and underrepresented tell their story."
ABOUT NEMO MEDIA GROUP
Founded by former ACA International PR Director John Nemo, debt collection marketing agency Nemo Media Group helps collection agencies increase revenue, win new clients and enhance/protect their brand online.