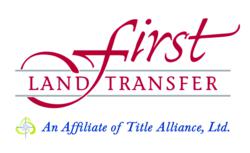 To be able to say that they handle everything plus they make us feel good and look good and all we do is go to the bank and cash the checks, that's a great partner
Exton, PA (PRWEB) September 20, 2012
First Land Transfer, an affiliate of Title Alliance, Ltd, profited $81,517 in the month of August 2012, bringing their total profits since 2004 to $3,078,228.
"My staff and I are very proud of the profitability of our company," says Erica Werner, Manager of First Land Transfer. "We work hard to provide excellent service to our customers, and crossing this milestone, while remaining RESPA compliant, is icing on the cake." Werner concludes.
First Land Transfer opened its doors in 2004 at the same time that Operating Principal of Keller Williams Exton, Cindy Dickerman, opened her real estate office doors. When asked about how she feels with her partnership with Title Alliance, Dickerman says, "Operationally they take care of everything, professionally we know that they do a good job and make us look good and we're extremely profitable." Dickerman continues, "To be able to say that they handle everything plus they make us feel good and look good and all we do is go to the bank and cash the checks, that's a great partner." When Keller Williams Exton opened their doors they had 19 agents. Now there are more than 150 agents in their office, specializing in Chester County Real Estate.
"Having First Land Transfer as part of our team is an incredible tool for recruiting," says Ed Fordyce Team Leader for the Keller Williams Exton Market Center. He continues, "I can confidently tell our new recruits and agents that they will not be let down by the service of our title company. And the fact that they are able to buy in and share compliantly in the profits of the title company, is an added bonus."
First Land Transfer started out with just Werner as manager. Today she has a staff of three who put their whole heart into each transaction. Through August 2012, First Land Transfer has successfully closed over 300 transactions.
Title Alliance, Ltd. is located in Media, PA and has been creating RESPA compliant title joint ventures since 1983 with lenders, mortgage bankers, REALTORS, builders and credit unions. For more information or to find out how a Title Alliance partnership could benefit you visit them online at http://www.titlealliance.com or contact Lindsay Smith at 800-220-3901 x 165.