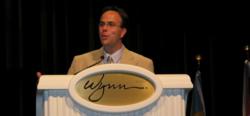 John Nemo is the voice of collection agencies nationwide.
St. Paul, Minnesota (PRWEB) September 20, 2012
Former ACA International PR Director John Nemo has been earning rave reviews from industry members and clients for both his previous work within the industry and the recent launch of Nemo Media Group, a new debt collection marketing agency.
"While at ACA International, John moved our public relations, social media and media presence from virtually nonexistent to one of national scope," said former ACA International CEO Rozanne Andersen. "ACA's presence in DC and our reputation as the first source of information about the credit and collection industry for print and broadcast media purposes grew to unparalled heights under John's direction. I have also worked with John in private business. I can personally attest to his exemplary work as a media crisis manager and his ability to positively position a company in the eyes of consumers and the business community. I would highly recommend John as a public relations, social, print and broadcast media consultant or as an employee. He is first rate."
Nemo used to work as the PR Director for ACA International, the Association of Credit and Collection Professionals, which represents more than 5,000 debt collection agencies, creditors, debt buyers, attorneys and vendor affiliates.
During his time there, he helped create and launch Ask Doctor Debt, the consumer financial literacy phenomenon that led to more than 125 interviews across the United States, reaching an estimated 25 million consumers and netting an estimated $1 million in free advertising/publicity value for ACA International and its members.
Nemo was also able to secure a weekly, ongoing segment for "Ask Doctor Debt" on top-rated Fox News Channel's "Happening Now" program that ran for more than four months straight during the spring and summer of 2009.
"In a world where big ideas are oft pursued but rarely discovered, John is the true author of a genuinely big idea called Ask Doctor Debt," said Tom Hayes, CEO of Riley Hayes, a Minneapolis-based marketing and advertising agency. "Ask Doctor Debt became a beacon for people who have gotten themselves in over their heads and are looking for help. This idea has been loved by the media, consumers and the organization for which John developed it. My agency was fortunate to draft off John's big idea. John is not only a big thinker, he is a good man whom I always enjoyed working with."
Added one of Nemo Media Group's current clients, Thomas Backal of PatientFirstCollections: "John Nemo has been a key advocate for the debt collection industry. His persistent efforts to strengthen the communication between our industry and the public have made great strides toward bridging the informational gap between collector and consumer. His award-winning Ask Doctor Debt initiative is a prime example of both his ability, success and vision in integrating our industry into new outlets of communication. John Nemo is the voice of collection agencies nationwide, and I for one can say that I feel fortunate to have such a strong voice representing our industry."
Nemo said he formed Nemo Media Group to help debt collection agencies increase their revenue, win new clients and enhance and protect their brand online.
"Having worked in the credit and collection industry and having won national PR Awards during my time at ACA International, I felt like I had a rare - and valuable - mix of industry-specific experience and proven success to offer agencies," Nemo said. "I think it's an edge very few - if any - other marketing groups or individuals can offer to debt collection agencies. Don't you want to do business with someone who is all about you? Someone who understands the nuances of debt collection and the unique PR, Social Media and Marketing challenges you face as a collection agency, debt buyer, attorney or creditor? That - along with a proven track record of success - is what I bring to the table with Nemo Media Group."