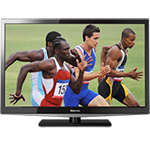 Atlanta, GA (PRWEB) September 24, 2012
Editors from CEAG have gone through hundreds of HDTV offerings and determined their top recommendations for the year based on 1) price and 2) value and 3) quality. CEAG Editors further point out that it is unusual to put quality 3rd in the order, but with the recession there needs to be some good price points out there for those looking to spend less on an HDTV. In their Best TV Deals list TCL was noted with a couple of models, such as this writeup on a 40 inch LCD, "At just over $300 bucks this is a very cheap TV for the 40" flat screen viewing. It's not the super thin variety LED TV on the market but rather traditional CCFL flourescent backlighting with a fairly deep 3.4 inches in depth.
LG was also well represented in the Discount TV list with 2 or 3 models in each such as this write up on a 32 inch model LCD TV, "This is another great 32 inch choice with which you will not be disappointed. The 32SC460 has sharp looking lines and is a quality TV even though its just 720p resolution. It has traditional CCFL flourescent backlighting rather than LED."
Lastly, the company recommends several LED TV Sales deals such as this review of a Samsung LED TV, "Value is one of the primary goals of this very affordable series from Samsung. The UN40EH5300 will present lots of it with the full Smart TV Internet features and built in Wifi, and built in Web Browser that Samsung provides in 2012. Price is around $650."
Editors note that many of the TVs in these recommendations do not have Smart TV capability nor 3D. Reviewers note that they have thoroughly evaluated through their Smart TV Review the major manufacturers Smart TV offerings.
About CEAG Inc.
Consumer Electronics Advisory Group Inc. operates several premier buying guide websites, including plasmatvbuyingguide.com, lcdtvbuyingguide.com, and 3d-tvbuyingguide.com among others. Online since 1999, the company provides objective and thoroughly researched information through professional reviews performed by seasoned reviewers. Editors Robert Wiley and Jack Burden have been reviewing televisions since the first commercial plasma TVs hit the market in year 2000. ISF calibrator John Wirtz has been calibrating televisions professionally for 10 years. The company adheres to strict testing guidelines using the highest caliber equipment. Company web sites have more than 15 million unique visitors each year in the fast growth consumer electronics industry.