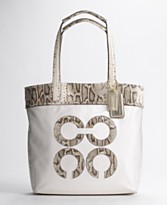 (PRWEB) September 19, 2012
New York wholesale brand name designer handbag business offers tips, strategies, and sources for wholesale buyers. CloseoutExplosion.com, a New York wholesale closeout company with resale customers located from Nigeria to Malaysia, has published a wholesale handbag website that offers information to help wholesalers, retailers, eBay sellers, and flea market vendors who are involved in the handbag business. As a result of having many domestic and international customers, and online experience in selling throughout the globe, Donny Lowy, the CEO of Closeout Explosion, has written insightful and practical articles based on his extensive experience in the overstock, closeout, and store return handbag business.
"I have a wholesale and closeout business through which I have sold thousands of brand name designer handbags. Based on customer feedback, market research, and my actual sales experience, I have published a website with important information that can help a handbag reseller develop a profitable online or offline business," said Donny Lowy, who has exported wholesale merchandise to boutiques in Nigeria, South Africa, St Lucia, Tanzania, the US Virgin Islands, and to many other retailers throughout the United States, Africa, the Caribbean, Europe, Latin America, and throughout the Middle East.
CloseoutExplosion.com has a clothing, shoe, and handbag warehouse in Brooklyn, New York where wholesale buyers can visit and make their own product selection. They can either purchase a handbag pallet, or make a selection of individual bags according to their preferences. The Brooklyn wholesale warehouse is located close to the New York Garment District and Chinatown, neighborhoods which handbag buyers search for wholesale showrooms.
His wholesale designer handbag website offers articles on business topics such as:
How To Sell More Wholesale Handbags With Joint Ventures
The Risk And Potential Of Buying Designer Handbags From A New Designer
How Not To Miss Out On Popular Handbag Fashion Trends
Tips For Encouraging Shoppers To Buy More Closeout Handbags
Why A Higher Price Can Help You Sell More Designer Handbags
Should You Buy Wholesale Handbags Sight Unseen?
How To Profit From Unsold Handbags
How To Increase Your Wholesale Handbag Buying Power
Can You Make Money By Buying Handbags At Outlets
How To Sell Brand Name Handbags From Home
Understanding The Popularity Of Italian Designer Handbags
How Handbags Can Increase Your Boutique Sales
The website also displays offers for brand name handbags that are for sale. International shipping is available through freight forwarders such as DBSchenker, Express Air Freight, Brady Cargo, Concord, Impex, and other shipping companies.
"I can make wholesale product recommendations for customers based on what other customers have purchased from me in the past. For example, if the owner of a Nigerian wholesale handbag boutique places an order online, I can make a selection of assorted handbags which are similar to what Nigerians who have visited the warehouse purchased. While customers can visit the warehouse to make their own selection, online orders are filled as a variety of different brands, styles, colors, and sizes," added Donny Lowy.
The handbags are primarily department store overstock and store returns, which is how CloseoutExplosion.com is able to supply brand name designers such as Coach, Lucky Brand, BCBG, Guess, Nine West, Steve Madden, Jessica Simpson, and other top of the line handbags by famous designers at below wholesale prices. The handbags are all authentic, so a wholesale buyer can have peace in mind in knowing that he or she is stocking her shop with original brand name products.
Another benefit to shopping online from CloseoutExplosion.com is in knowing that the wholesale company has many international repeat customers, and is willing to provide references from customers who have placed wholesale orders. Because the warehouse is located in New York, many international customers can have relatives or friends that are able to visit the warehouse to see the merchandise in person, and then further describe what is available, and even make a purchase for them on their behalf.