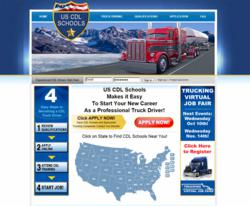 We offer an online application for CDL training schools and academies, as well as current openings for company sponsored license training
Dallas, TX (PRWEB) September 20, 2012
According to CNNMoney, the demand for truck drivers is expected to increase by 20 percent between 2010 and 2020, with over 200,000 unfilled positions already open nationwide. Thanks to the developers of a new CDL schools web site, having access to training, schooling, and landing a job is now easier than ever.
"We offer an online application for CDL training schools and academies, as well as current openings for company sponsored commercial license training," said Aya Huffman, manager of digital development for eMedia Group, the parent company and developers of the new web site located at: http://www.uscdlschools.com.
Huffman explained that what makes eMedia Group's new web site is different from everything else on the market is the fact that it is features a one-stop online application for school placement, and current listings for companies and schools seeking future truck drivers right away, instead of being a directory with a phone number to schools which could be overfull or not accepting new applicants.
"We have specific openings and listings as well as an online application which helps connect you with multiple opportunities at once," Huffman stressed, before adding, "Our web site is specifically designed for future truck drivers who are 21 and older with clean driving records. We do, however, have a directory of all sorts of top schools, but we like to promote the companies who offer company-sponsored CDL training."
The digital development manager noted that its web site also offers advertisement opportunities for trucking training schools and trucking companies.
"We offer this for schools and companies who want to sponsor CDL training or are looking for new truck drivers, so we've created a way for schools and companies to reach them by advertising through banners and premium listings on the board," Huffman said.
The launching of the new web site could prove to have perfect timing.
According to the American Trucking Associations, in its newly released ATA U.S. Freight Transportation Forecast to 2021, the trucking industry can expect its share of total tonnage to increase gradually from 68 percent to 70.7 percent by 2021.
An increase in tonnage usually signals an increase in the already high demand for truck drivers.
Huffman pointed out that her company's new web site makes it quick and easy for anyone to search for schools for CDL and trucking training.
As to the main reason why anyone should visit the company's new web site, Huffman said, "Our goal is to provide our clients with highly effective recruitment solutions for future truck drivers and CDL students."
For more information, please visit: http://www.uscdlschools.com
Schools or companies interested in learning more about eMedia Group's advertising opportunities, please send an email to: sales(at)emediagroupllc(dot)com