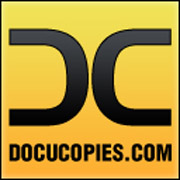 Being in a position to help a complete stranger like that has been the most rewarding day of my job so far.
San Luis Obispo, CA (PRWEB) September 20, 2012
It's the ethical duty of all profitable businesses to give back to the communities they serve, particularly in times of widespread economic hardship. At least that's what David Pressley, President/CEO of Docucopies.com, thinks. And for as long as his company has been profitable, the company's actions have reflected this. He hopes to set an example for other successful businesses and CEOs.
Docucopies.com has thousands of testimonials, many from customers representing non-profits of all types who are stunned at saving thousands of dollars on their digital printing. Take for example Cathy at Grace International Children's Foundation, which operates a home, school and clinic for children left orphaned or abandoned due to HIV/AIDS:
"You were so reasonably priced and had great references, I thought I had nothing to lose. I was willing to try it," says her recent testimonial. "We have more money available to care for the orphans now!"
In addition to helping non-profits save money with their low prices, Docucopies.com regularly supports organizations in their community and across the country through active participation and donations to organizations such as:

The Urban Arts Academy, an after-school and summer arts program for at-risk urban youth in South Minneapolis
The Tuolumne River Trust, an environmental conservation organization in California
The Perpich Center for Arts Education, a Minnesota-based, public high school and professional development center with a focus on the arts, which trains teachers and assists schools across the country in developing their arts curriculums
The Retreat, a drug and alcohol rehabilitation center in Minnesota
Secondhand Hounds, which fosters and places dogs and pets in loving homes
The Humane Society
Local Fire/EMS Departments
and more
Sometimes working with customers presents opportunities to help with causes they would not have otherwise known about, as shown with this anecdote from team member Roe Pressley:
"I took a phone call from a customer in Florida who had ordered something incorrectly and the job was useless to her," says Pressley. "Normally we won't fully refund something if the mistake was not ours. In her case, the flyer was promoting a fundraising event to raise awareness and research money for a rare, crippling disease which afflicted her young daughter. She was nearly in tears on the phone. I told her I would see what I could do."
Pressley sent an email to his dad, the company's owner, and within a couple hours they had a solution to the problem.
"Not only did we end up reprinting the job, but we decided to sponsor the live music portion of her event as well," says Pressley. "Being in a position to help a complete stranger like that has been the most rewarding day of my job so far."
For more information on Docucopies.com and their competitive prices on color copies, books, booklets, flyers, brochures, and more, visit them online at http://www.docucopies.com.