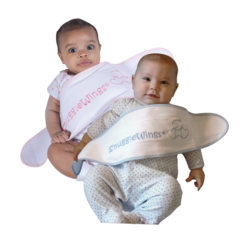 SnuggleWings helps parents with swaddle concerns to sleep with both eyes closed.
Washington, DC (PRWEB) September 27, 2012
Park Innovations, LLC, a company dedicated to provide sleep solutions to parents of newborns, announces the launch of its new baby swaddle-supplement, SnuggleWings. The company claims that parents with swaddle concerns can now sleep with both eyes closed, as SnuggleWings aims to help parents swaddle their babies more effectively. SnuggleWings is a safe, and reliable swaddle-supplement designed to make traditional swaddle blankets work better by containing babies' arms inside the swaddle. A common scenario when swaddling is when involuntary movement, also known as the startle reflex, enables babies to break free of their swaddles. Parents, frustrated and exhausted from sleepless nights, often buy a variety of ineffective swaddle devices in a desperate attempt to find something that works. Sadly, the majority of these products do not work.
Guesswork is eliminated by simply combining SnuggleWings with a standard swaddle blanket that parents probably already own. Swaddle-pro, or not, SnuggleWings guarantees to keep babies safe, and snuggly swaddled. Parents may also continue using SnuggleWings reliably, for many months, depending on baby's size.
Although they considered themselves swaddle-pros, Craig Buckson and his wife, Kristin, struggled to keep their newborn, Parker contained in her swaddle. They even took a class on proper baby wrapping techniques prior to Parker's birth. However, at about the two-month point, little-Parker turned into little-Houdini. "She started breaking free, consistently," says Craig. "So we tried several swaddle devices currently on the market, but she wriggled out of all of them." For Kristin and Craig, this meant more sleepless nights, as well as a departure from using their beautiful, traditional swaddle blankets, many of which were gifts, given to the couple at their baby shower. But they weren't willing to give up the benefits of swaddling so soon. They knew it provided Parker with that in-the-womb feeling of snugness and security. After failing to find a swaddle product that worked consistently, they developed their own; a supplement to work in tandem with their traditional swaddle blanket, which helped Parker to sleep through the night.
SnuggleWings offers many advantages:
It helps protect against the Moro (startle) reflex.
It helps keep the swaddle blanket in its proper place and away from Baby's face.
It is a safe and secure supplement to standard swaddle blankets and most other blankets.
It helps settle Colicky and fussy Babies.
It helps reduce certain risks associated with SIDS.
Swaddle reliably for up to seven months (depending on Babies Size)
Made of 100% cotton interlock fabric, which is breathable, lightweight and durable.
Parents and Baby can get the rest they desperately need.
SnuggleWings comes in two versions; arms-at-sides and arms-over-chest. The arms-over-chest version also allows for one-arm swaddling, for those parents who prefer to wean their babies off swaddling.
More information about SnuggleWings® is available at: http://www.facebook.com/SnuggleWings and http://www.snugglewings.com.