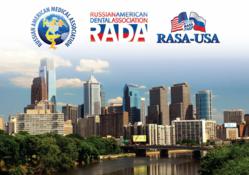 "The Health Magazine "Zdorovie is honored to be a partner of RAMA-RADA-RASA Joint Conference-2012 to be held in Philadelphia on November 9-11".
Philadelphia, PA (PRWEB) September 25, 2012
"The Health Magazine Zdorovie is honored to be a partner of RAMA-RADA-RASA Joint Conference-2012 to be held in Philadelphia on November 9-11", says publisher of Zdorovie magazine Svetlana Tsatkin.
The Conference will provide a great venue to interact with diverse group of Russian-speaking physicians, educators and scientists as well as other healthcare associated professionals. The three-day conference brings together professionals from multiple disciplines from across the country, creating an unparalleled opportunity for education and networking. "Our goals are similar, which allows for a very productive partnership", comments editor-in-chief Elizabeth Seletsky, and adds: ""RADA (Russian American Dental Association), RASA (Russian American Scientific Association) and RAMA (Russian American Medical Association) are the biggest professional associations of Russian speaking professionals outside of Russia, and The Health Magazine Zdorovie is the biggest Russian language health publication outside of Russia. For example RAMA has launched the Heart Health Awareness in Russians project which will provide health information and medical education to the Russian immigrant population. Phase I of the project will focus on the issues of the heart disease. Zdorovie magazine is constantly publishing heart disease prevention materials, lists available tests, drugs and treatments. So both organizations concentrate on preventive measures. RADA in its turn has developed an Oral Cancer Awareness Program while The Health Magazine publishes numerous articles on cancer awareness, education and prevention".
For more information about the conference and the Health Magazine Zdorovie visit: http://www.russiandoctors.org/events/national-conferences/9th-national-conference and http://www.zdorovie.com.
About The Health Magazine Zdorovie
The Health Magazine Zdorovie is the advocate for Russian-speaking Americans who choose to live healthier, happier lives. Whether the patrons aspire to develop a more positive outlook, lose weight, or overcome a chronic medical condition, The Health Magazine delivers beneficial and timely information, advice, tools, guidance, and support which can be easily accessed through subscription, distribution, online (http://www.zdorovie.com), on I Pad and through libraries. Zdorovie exists to help its readers maintain a healthy lifestyle and, more importantly, feel better about themselves. Every aspect of a good life—food, fashion, beauty, fitness, and relationships—is put in a healthy context through smart, substantive editorial and design that's fresh and fun.