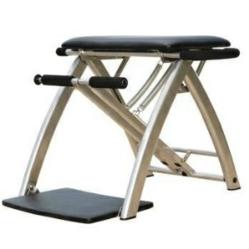 I use the chair pedal to ground down through the feet and lengthen up through the top of the head, therefore, creating space in the spine. It lightens compression especially in the lumbar vertebrae.
New York, NY (PRWEB) September 20, 2012
Just like we need to spend a little time every so often, organizing a desk so our workspace is kept uncluttered, so it is with our bodies. Neck and shoulder tension that builds up from sitting for hours in front of a computer can feel like a bunch of cluttered-up and disregarded muscles and bones that need to find their proper place and feel well-organized in space.
New classes on the Pilates Chair at Mind Your Body Fitness in NYC teach how to un-clutter the neck and shoulders and even how to de-compress the entire length of the spine, and it's all performed from a sitting position.
Mind Your Body owner Gail Giovanniello just returned from a five-day training in Denver where she learned extensively about tools of body organization from Pilates educator Cara Reeser who studied with the master of the chair Kathy Grant, and who received the information directly from Joseph Pilates. Gail will share what she learned from Cara so that this in-depth body information of special integrity gets spread to other teachers and their clients as well as the teachers and clients at MYB.
Start with sits bones on the edge of the chair, zipping the lower abdominals. Then lengthen out the top of the head to create space in the spine which begins the un-cluttering feeling by clearing compression between the vertebrae. Other exercises such as the leg pump give experience of the connection of the legs into the seated pelvic stability. This serves to ease the extension of the lumbar spine and also promotes oppositional lengthening of the upper spine to achieve a completely un-cluttered sense of spine.
Gail Giovanniello will lead participants through an entire range of spinal movements, particularly side bending and arching, which helps alleviate postural problems caused by the habitual tendency to slump forward into rounded positions. People already experienced or familiar with the well-known Pilates Reformer will find rejuvenation and expanded interest in that any exercise performed on the Reformer can also be performed on the Chair, but with the added core-strengthening challenge of staying balanced upright on a much smaller piece of equipment.
Gail was recently interviewed on "Let's Get Organized" in a Voice America broadcast by Meryl Starr on the topic of Body Clutter. She spoke on how exercise un-clutters both the mind and the body - how taking 30 minutes to activate the spine with hands free from phones, bags and other tasks, also creates a meditative state, clearing your mind.  
Gail says: "Finding deep core support goes way beyond pulling the navel in – the combination of grounding down and lengthening up out the top of the head is totally different from pulling in or up in the abs. The springs on the chair help to create space in the spine and it really does un-clutter compression – mostly in the the last five vertebrae - and boy! - not only does that feel good, but with a regular Pilates practice, you will keep more upright as the aging process bring you down."
See the Mind Your Body Complete Class Schedule with Over 40 Group Classes Seven Days a Week Each with Five or Fewer Students
The Pilates Chair Workshop will be held at the newly renovated and expanded location of
Mind Your Body Fitness at 1370 Lexington Avenue between 90th & 91st Streets NYC 10128
Please call: 212-426-7960 for more information or to reserve a space for yourself in the workshop
For press inquiries, please contact Tim Driscoll 212-647-8878 tim(at)backboneandwingspan(dot)com