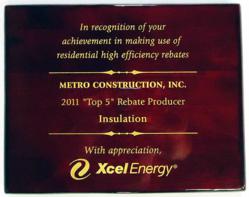 Our mission is to prove that with the help of rebates, they can enjoy the comfort and energy savings of insulation.
Denver, CO (PRWEB) September 20, 2012
As one of the largest metro Denver insulation installers, the employees of Metro Construction hold themselves accountable for providing homeowners with high quality insulation service, energy savings and rebates. In 2011, they proved their commitment by providing more residential insulation rebates with Xcel Energy than the competition, receiving a "Top 5 Rebate Producer" award from the energy provider. This year, the company wants to help even more homeowners afford an insulation upgrade.
"We're coming up on insulation season," said Jerod Raisch, CEO of Metro Construction. "Many Colorado homeowners recognize they need more insulation, but they think they can't afford it. Our mission is to prove that with the help of rebates, they can enjoy the comfort and energy savings of insulation."
As winter approaches, many homeowners dread the increase in their energy bills. With constant heating needed for a comfortable home, insulation and weatherization become very important. Most homes built before 1980 don't have enough insulation.
Residents might realize their home is colder than it should be, but they often don't know about the energy savings that come with increased insulation. Raising your insulation to government recommended levels could save a typical home 25% of their energy cost – on the average bill, that's over $500 a year.
With those kinds of energy savings, the investment can pay for itself in two years or less. By using less energy, homes are more environmentally friendly, too.
"Although insulation is a cornerstone of our business, this service really does help homeowners. Insulation is one of the easiest ways to make your home more efficient, saving you money and helping the Earth, too!" Raisch said.
The current rebates from Xcel Energy allow homeowners to save 20% of the installation cost, up to $300. When you add the savings from monthly energy costs, it's an attractive prospect.
Metro Construction hopes to beat their 2011 record by stepping up insulation in Colorado Springs and other nearby areas. If homeowners aren't Xcel customers, there are still rebates available from the government and other energy providers like Black Hills Energy.
"No matter the energy provider, we can work with homeowners to make their home more comfortable for winter." Raisch said. "With a little luck, we'll help more than 2,000 homeowners install new attic insulation this season."
The company employs a dedicated team of insulation installers throughout the area, with offices in Denver, Pueblo, Loveland, Colorado Springs and Cheyenne, Wyoming. These satellite locations allow Metro's insulation technicians to service the entire Front Range of Colorado.
Metro Construction is a Colorado roofer and general contractor based in Denver. They provide roofing, insulation, siding, windows, exterior paint and gutters throughout the Front Range. As a Platinum Preferred Contractor with Owens Corning, Metro offers unbeatable Lifetime Roof Warranties and AttiCat Blown-In Insulation. Many of their services increase energy efficiency, leading to lower bills and a healthier planet. More information can be found at http://www.mymetroconstruction.com.