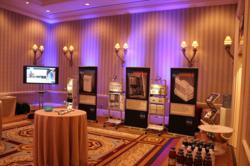 CIBET prepares RF Engineers to design and deploy today's spohisticated and complex DAS networks
(PRWEB) September 20, 2012
SOLiD is sponsoring and leading teaching sessions during the Certified In-Building Engineering Technologist (CIBET) training and certification initiative which takes place September 24 – 28 in Denver, CO. The program will provide a foundation of knowledge to the in-building radio frequency (RF) engineering community by exposing participants – both industry newcomers and veterans – to the scientific principles associated with Distributed Antenna System (DAS) deployments through a combination of lecture and hands-on lab experience. Held in conjunction with the Interdisciplinary Telecommunications Program at the University of Colorado at Boulder, students will, upon successful completion of the course exam, receive three continuing education credits.
The CIBET program is comprised of lectures and demonstrations from equipment manufacturers and system integrators designed to share practical deployment experiences for addressing unique and challenging venue requirements, merging indoor and outdoor environments, DAS noise impacts, interference sources, mitigation techniques and public-safety waveforms, networks and regulations. An optional workshop curriculum includes DAS deployment fundamentals such as RF propagation, waveforms and signals, link budget analysis, RF coverage, and confidence and capacity planning.
"As DAS deployments become increasingly complex to support large-scale projects consisting of multiple wireless operators, high bandwidth capacity needs, convergence of both indoor and outdoor coverage spaces and public-safety communications, the level of sophistication required of the RF engineers who design, install and manage these networks similarly increases," said Seth Buechley, President of SOLiD. "The first of its kind, the certification program through the CIBET Initiative ensures that current and future RF engineers will possess the sharpest skillsets to deploy and support mission-critical DAS networks."
SOLiD will train students on filtering techniques required for multi-service DAS deployments in which RF signals used by commercial cellular providers and public-safety communications services need to be properly isolated. SOLiD will also explore how DAS network technology and architecture will likely evolve into a single, all-fiber communications platform on which to plug in myriad services including cellular, public safety, WiFi and other applications such as RFID, building automation and more.
To learn more or register for the program, please visit the CIBET website.
About SOLiD
SOLiD is the U.S. operating arm of SOLiD, Inc., a publicly-traded global telecom manufacturer established in 1998 and headquartered in Korea. SOLiD enables reliable coverage and capacity for wireless and wireline telecommunications providers with innovative, patented and robust fiber technology solutions. SOLiD's distributed antenna system (DAS) solutions ensure dependable coverage within buildings, campuses and venues with support for commercial wireless, public safety radio, private 2-way radio, and paging using just one strand of fiber. SOLiD's fiber multiplexing solutions, based on patented INFINITY™ tunable laser technology, increase existing fiber capacity more than 16x and reduce CAPEX and OPEX. With innovation as part of its DNA, SOLiD is applying its technology to solve not only today's challenges but leading the development of next-generation solutions. SOLiD's global customer reach includes major wireless operators, Tier-1 and facilities-based carriers as well as leading hospitals, world-class hotels and resorts, Fortune 500 corporate campuses, international airports, professional sports venues, metropolitan subways and other marquee customer sites. SOLiD is available on the GSA Schedule.
Please subscribe to the SOLiD blog, The Inside Story, for the latest information on industry trends.
For further information please email info(at)solidtechusa.com or call 888-409-9997.