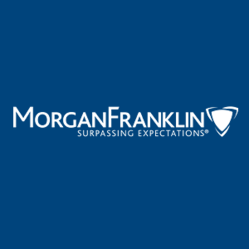 As U.S. government satellite communications continue to evolve, it has never been more important to invest in education, professional development, innovation, and the next generation of satellite service providers.
McLean, Virginia (PRWEB) September 20, 2012
MorganFranklin Corporation, a business and technology consulting firm that delivers national security, financial management, and performance improvement solutions to government and industry clients, today announced that Daniel Gager was elected to the board of directors for the Society of Satellite Professionals International (SSPI) Mid-Atlantic Chapter. Gager, who joined MorganFranklin in June as the Director of Business Development for C4 Programs, has been an active member of SSPI since December 2011. SSPI is a nonprofit member-benefit society that serves satellite professionals throughout their careers, relying on the work of dedicated and talented volunteers to carry out its professional development mission and oversee programs benefiting the global satellite industry.
"I am honored to be expanding my role with SSPI in this capacity, and I look forward to contributing as an adviser and functional director to strengthen the position of the organization, satellite professionals, and future leaders in the Mid-Atlantic region," Gager said. "As U.S. government satellite communications continue to evolve in response to today's growing challenges and tight economic and budget constraints, it has never been more important to invest in education, professional development, innovation, and the next generation of satellite service providers."
Gager brings unique experience functioning as a senior-level U.S. government satellite communications (SATCOM) leader, and sees ample opportunity for continuous improvement of satellite communications. In his role with MorganFranklin, Gager is focused on further developing the company's satellite teleport and managed services areas as a satellite solutions provider, drawing upon his extensive experience in telemetry, space operations, launch, programmatic support, modeling, and simulation. He is dedicated to delivering end-to-end solutions and high-level security requirements for special users, and recognizes a need for Mission Assurance Category I (MAC I) compliant satellite services and secure landing facilities for special user satellite traffic through teleport.
Gager previously served as Division Chief of the Defense Information Systems Agency (DISA) Enhanced Mobile Satellite Services (EMSS) program, and program manager of the Future COMSATCOM Services Acquisition (FCSA), a $5 billion commercial satellite services program. He also managed multiple smaller classified communications programs for the Department of Defense (DoD). Gager is currently a communications officer in the District of Columbia National Guard, with 16 years of service. In this capacity, he instructs congressional testimony at the U.S. Army War College in Carlisle, Pa., and is a member of the Armed Forces Communications Electronics Association (AFCEA). Gager's previous assignments include signals intelligence officer, Special Operations Detachment Korea; Commander, Defense Satellite Communications System Certification Facility; operations officer, 1st Satellite Control Battalion; and operations officer, 102d Signal Battalion, Directorate of Information Management.
Early in his career with DISA, Gager oversaw the installation of the first fiber optic transport into Iraq in support of military operations throughout the country, increasing DoD's in-country bandwidth by 400%. He is a frequent speaker at the AFCEA Satellite Conference, having represented the government numerous times in open forum COMSATCOM panels to discuss how the government leases and uses commercial satellite services. Gager has also spoken at the U.S. Army SATCOM Workshop, presenting on program concepts and how the commercial industry can use contract vehicles to provide satellite offerings to the government.
"MorganFranklin is honored to welcome Dan to our team, and his new role with SSPI presents a tremendous opportunity for him to contribute leadership and insight to enhance the satellite communications sector and help build the foundation for the future generation of satellite professionals and leaders," said Rob Franklin, MorganFranklin co-founder and president of the National Security Solutions division. "Dan has a proven track record of successful program management and cost savings implementation within the U.S. government, and he brings a wealth of knowledge of satellite program management, research and development, program budget planning and execution, as well as satellite ground segment and teleport operations."
SSPI is comprised of more than 2,500 satellite professionals in over 30 countries. As the professional development society of the global satellite industry, SSPI is committed to:

Promoting the development of—and access to—high-quality, satellite-related education on the post-secondary and continuing (adult) levels through scholarships, development of curricula, hosting conferences, and publishing the world's first online journal on space communications.
Helping satellite professionals advance their careers by creating opportunities for them to do business with and learn from each other through chapter programs, social networking, membership databases, and publications.
Working to increase the professionalism and professional standing of members in every sector of the global satellite industry through partnerships with leading educational institutions and the private sector.
Honoring extraordinary achievement by satellite professionals and the companies they work for through the Satellite Hall of Fame and Industry Innovators awards programs.
For more information about the Society of Satellite Professionals International, visit http://www.sspi.org.
# # #
About MorganFranklin
MorganFranklin is an execution-oriented business and technology solutions company. We deliver program and mission support services and C4ISR solutions to military, homeland security, and intelligence customers. Our mission is to harness the power of people, processes, and advanced technology to help clients anticipate, manage, and overcome dynamic national security challenges. With fast access to diverse expertise—from IT operations to intelligence analysis—we look at challenges from every angle to satisfy immediate needs and develop long-lasting and sustainable business and technology solutions. Learn more at http://www.morganfranklin.com.