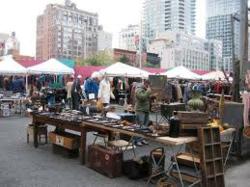 (PRWEB) September 20, 2012
New York flea market vendors can now access free strategies, tips, and resources from a wholesale flea market website created specifically for New York flea market and swap meet vendors. The flea market site has been created by Donny Lowy, the CEO of CloseoutExplosion.com, a wholesale closeout business that supplies flea market and swap meet products from its Brooklyn wholesale warehouse. In addition to wholesale clothing, the warehouse also carries overstock shoes, store return and overstock handbags, and closeout fashion accessories.
The New York flea market website offers flea market reviews, flea market sales strategies, product selection ideas, and special insights based on Donny Lowy's experience selling at flea markets, market research, and feedback from customers who are already setting up booths at NY region flea markets.
Donny has also interacted with the management of New York flea markets, which has given him an insight into what it takes a vendor to really be successful at selling retail.
"Before my business moved in the direction of becoming a wholesale export company, I spent months traveling to flea markets, such as the Queens Aqueduct Flea Market, and selling from a rented spot. I then started wholesaling to my fellow vendors, before I rented an actual warehouse from which I now wholesale brand name products. It is based on this experience that I felt the need for a website geared specifically towards vendors who are looking to make money in New York and New Jersey flea markets," said Donny Lowy, who also exports brand name closeouts to vendors who sell at markets overseas, from Nigeria to Trinidad and Tobago.
"Selling at flea markets can be very lucrative. Becoming a swap meet vendor in NY is a good option for those who are unemployed or underemployed since they can start with a very low budget and it is easy to set up during the week or on a weekend, and people can even start by selling unwanted items that they have sitting around the house," continued Donny.
Many New York area flea markets such as the Hells Kitchen Flea Market, the Green Flea Market, the Merrick Flea Market, the Orange County Flea Market, the Yonkers Raceway Market, the Hudson Valley Marketplace, and others, offer daily, weekly, and monthly rental options. Once you have your New State Resale Tax ID number you can show early in the morning, rent a spot, and start selling your wholesale merchandise. While it is recommend to start with a van, which you can easily rent from U Haul or Budget, I have seen many flea market vendors bring a folding table and their products with their personal car.
The New York flea market website covers important topics such as:
How New York Flea Market Vendors Buy Products At Really Low Wholesale Prices
Can You Make Money Selling Used Clothes At A NY Swap Meet?
The Key To Selling Comic Books At Flea Markets
Use Controversy To Supercharge Your Local Flea Market Sales
Creative Wholesale Merchandise Sourcing
How To Create A Stampede Of Traffic To Your Flea Market Booth
Antique Sales At Flea Markets Are Nothing To Laugh About
How To Take Your Flea Market Business Online
Minimize The Competition With Exclusive Selling Arrangements
How To Effectively Wholesale To Other Flea Market Vendors
How To Purchase Products For Literally Pennies On The Dollar
Determining The Type Of Merchandise New York Flea Market Shoppers Are Looking For
While there are many New York references in this online guide, flea market vendors from across the country, and from Africa, the Caribbean, Europe, Latin America, the Middle East, and Asia, can benefit as well from reading these valuable wholesale and retail tips.