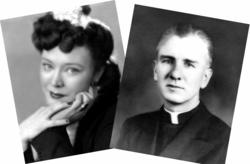 New York, NY (PRWEB) September 20, 2012
Tim "Dr. Hope" Anders' Everybody Calls my Father, Father is a moving love story that has "future cinema" written all over it. Dedicated to his mother, Anders' book is based on the true love story of his own parents, and the trials and tribulations they suffered as they pursued their forbidden romance. Everybody Calls My Father, Father is rich with authentic characters, some lovable, some heinous. Bouvette Sherwood (Ander's mother), who is a successful Broadway actress and producer, drives the plot.
The story opens up in 1946 at Rao's Italian restaurant, owned by Vincent Rao, a New York City gangster and long time friend of Anders' father. This is where the two main characters, Bouvette Sherwood and Hughie Hewitt develop an attraction toward one another that soon skyrockets into a steamy relationship. Hughie, a tall, handsome and utterly charming alcoholic, has a secret though, which he keeps from her during their intense courtship, he is a Catholic priest. Because he has vowed to uphold a lifetime of celibacy he tries to cool off his natural desires with alcohol. His mind tells him that he must break off the relationship, but his heart tells him otherwise. Soon it's too late, he has fallen helplessly in love with this alluring female.
Anders packs charged dialogue onto every page, putting the full arsenal of his writing skills and his characters' charms on display. Hughie never leaves the priesthood, instead covertly he raises a family, hiding their existence from the church, at least for a while.
The plot explodes when the existence of Hughie's family is discovered by an overly ambition and ruthless Monsignor. Ander's exposes to the world despicable atrocities perpetrated by the Catholic Church in order to keep, what they deemed to be an illicit relationship, hidden from public view. At its very core, it's a battle between the pure, basic love between a man and a woman and the power of the Catholic Church. There are numerous themes running concurrently throughout the book, such as love, betrayal, humor, conspiracy, and romance that work together to push you to turn the pages at an ever quickening pace.
Everybody Calls my Father, Father is more about the journey of love, rather than the end result. The journey is a liberating force that builds memories and immortal legacies that no one, not even the Church can touch or tarnish. Tim Anders inherits his mother's humor, optimism, and belief that there is always hope.
Overall, Everybody Calls my Father, Father invites its readers to reexamine the entire concept of love and as Anders' puts it: the Catholic Church's self-serving, unnatural and antiquated rule of celibacy. This is a must-read that will expose a full array of extremely honest human emotions as it depicts the power of love and one woman's perseverance against all odds.
Excerpts of the book can be read at: http://www.EverybodyCallsMyFatherFather.com
About Tim "Dr. Hope" Anders: Dr. Hope is an award-winning children's book author who also writes books for grownups. For more information about him go to http://www.DrHope.com.