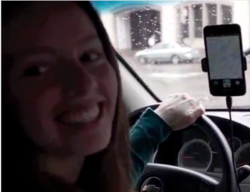 Android users ... can boast their own personal co-pilot, Robin
Palo Alto, CA (PRWEB) September 20, 2012
Racing toe-to-toe with iOS 6 release, Robin has just received a major upgrade that incudes a number of driver-friendly features, spanning both location based services and entertainment. In addition to improved navigation and related features, e.g., local search, real-time parking guidance and gas prices, the grown-up Robin also offers traffic-based ETA information along with proactive traffic alerts, delivered though learning the user's individual commute patterns. In addition, Robin is quickly developing as a personal communication and entertainment consierge, offering hands-free messaging (email and SMS), radio-like personalized newscasts (a.k.a. Robin's Newsroom) based on the user's Facebook / Twitter streams, and even jokes. Nearly all of the above features are designed to be fully operable by voice or gesture. For instance, users can initiate a dialogue by «waving hello» in front of the phones's screen (see video).
According to Magnifis, the company behind Robin, it is strongly differentiated from competitors by building the «driver's best friend» that is not only focused on providing easy and distraction-free access to information, but also helps people make their commute both efficient and fun. "The case for a Siri-like car assistant is now very obvious and the possibilities are near-endless, in particular with infotainment", says Magnifis CEO Ilya Eckstein. He also comments on the company's commitment to Android platform: "We strongly believe that the combination of Robin's smarts with Android's openness and superior service stack, such as Google Maps and search, will help us build the world's best personal assistant on the road - including Siri. With most hardware features quickly becoming similar across different phones, our goal is to make iPhone users switch to Android, just so they can have Robin."
About the company: Magnifis is a seed stage technology startup company located in Palo Alto, CA. Funded by a number of angel investors, Magnifis is committed to developing the next generation of intelligent personal interfaces.