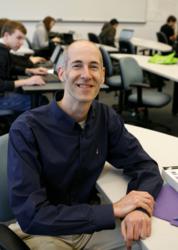 Needham, Mass. (PRWEB) September 24, 2012
When Olin Computer Science Professor Allen Downey can't find the right book to use in one of his classes, he doesn't worry—he just writes one himself. What's more, he invites students and scholars to help him improve the book by providing feedback, which he incorporates into future editions. He's even OK with authors rewriting his books, as long as they provide attribution and agree not to use them for commercial purposes.
It all began in 1991 with a book called "How to Think Like a Computer Scientist" that Downey, dissatisfied with existing textbooks, created for his classes. He began refining it through student feedback when he discovered, for example, that students felt some chapters contained too much material. Eventually, he self-published the book via his own outlet, Green Tea Press, whose motto is "students should read and understand textbooks."
Once the book was on the Internet, offered for free, it began attracting the attention of other authors who adapted it to their own purposes. At one point, a high school teacher in Virginia "translated" it into the Python programming language, and Downey says he "learned Python by reading my own book." Later, a traditional publisher, Cambridge University Press, published a version of the book, and other permutations began to proliferate.
Now, the titles inspired by Downey's original work include "Think Stats" and "Think Complexity." The latest title in the series, "Think Python," has just been published by O'Reilly Media. Downey estimates there are 10 - 20 books in circulation based on his original tome, and they are in use in some 200 colleges and high schools around the world—including Olin, where, in a given semester, approximately two-thirds of the students use one of his books in class.
For Downey, who joined Olin in 2003, his publishing activities are a direct outgrowth out of his teaching activities. "I can make the class more effective when I have this sort of control over the material," he says.
It's also part of what he sees as the future of publishing, when copyright and licensing will be "teased apart." When you are offering your books for free, notes Downey, "there's a little bit of a gift exchange there, and people tend to reciprocate" by helping to improve the work.
Although he acknowledges there is a risk of his name becoming associated with an inferior product, so far, he says, "the benefits have been so great, I'm willing to tolerate the risks."
For more information on Downey's publishing activities, visit http://www.greenteapress.com.