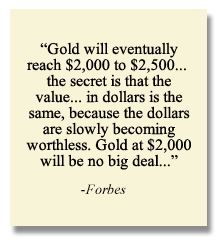 Los Angeles, CA (PRWEB) September 21, 2012
More people are looking for ways to invest in Gold using their IRA and 401(k) as the past few years have turned out to be incredible for gold investors. The best part is that there are several options available when it comes to investing in gold using retirement accounts and there are different types of these based on the type of gold investment one wishes to make. Traditional IRAs give people the ability to invest in whatever options are offered by the brokerage, including stocks, bonds, mutual funds, ETF's, etc. However, investing in gold is a rather lucrative and smart option considering the fact that precious metals (gold in particular) have been performing so well of late.
Asset diversification is the key to financial success according to financial professionals across the globe. They suggest that purchasing precious metals to diversify investments among different securities or asset classes can greatly reduce the risks of investing. While gold mutual funds, gold ETFs, and gold mining stocks are also good options to consider, a self-directed IRA enables investors to invest in things other than securities registered with state or federal authorities. It offers the maximum number of options for investing in gold and one of the main differences between a traditional IRA and a self-directed IRA is that the latter allows people to invest in non-traditional assets in addition to the traditional options mentioned above.
Physical gold bullion and gold coins can also be purchased unlike with a traditional IRA where people can invest in gold bullion through an ETF, but they can't actually buy gold coins or the bullion itself. Assets in a self-directed IRA can also be used to buy a rental property, or even as the down payment for a mortgage on a rental property. Though the real estate market is down, there is a lot of activity in investment real estate. Despite the suddenly buoyant stock market, investment in private businesses and venture capital investing are also on the rise. Self-Directed IRA holders enjoy the dual benefits of reducing taxable income while investing in something that is not only a lot more profitable but also interesting than stocks, bonds and mutual funds.
A point to be noted is that people are not allowed to invest in collectables inside retirement accounts, which means they cannot invest in collectable coins. Furthermore, those who physical gold bullion or gold coins need to account for storage and insurance costs. The IRS has also set a guideline that each coin needs to be at least 99.5% pure to qualify as an investment. The United States government currently allows certain gold bullion and proof coins, as well as certain silver, platinum and palladium coins and bars in self-directed IRAs for retirement planning. For those who choose to add precious metals to their Self-Directed IRA, there are countless options to choose from like American Gold Eagles, gold, silver and platinum coins and bars, Canadian Maples and more. Laws relating to IRAs have recently been amended allowing the addition of foreign and private mint bullion as well.
About Precious Metals Brokerage Groups International, LLC ("PMBG"):
PMBG is a leading, U.S. based precious metals trading firm and a proud member of the Better Business Bureau with an 'A' Rating. The company offers a full range of internationally recognized precious metals investment products including bars and coins of gold, silver, palladium and platinum. The precious metals are delivered via direct, insured shipment to your home or to secure depository storage for 401k, 403b, and self-directed IRA accounts (including Traditional and Roth IRAs). Prospective investors can call PMBG directly at 1-800-516-PMBG (1-800-516-7624) or visit http://www.pmbg.net for a free investment kit or to learn more details on setting up Gold and/or Silver IRAs and other precious metals investment and retirement accounts.