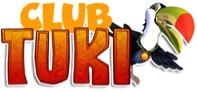 San Diego, CA (PRWEB) September 20, 2012
The California Women's Conference is just around the corner and so is Club TUKI's one million dollar give-a-way of Club TUKI memberships to their online gaming platform for kids and parental control software used to protect and educate children about online safety with a patented reward system exclusive to the kid-safe site. Each membership valued at $97.00 totals 10,392 memberships made available to attendees at this year's conference in Long Beach, California.
Club TUKI's sponsorship of the women's conference is a likely fit as thousands of women come together to support a star-studded event empowering women from all backgrounds with powerful thoughts leaders, inspirational speakers and abundant resources for businesses owners.
The conference includes over 250 vendors with products and services appealing to every female shopper. This year, to make a stronger impact on children's online safety, Club TUKI is giving away memberships to their online platform that hosts a 'play, learn, earn and win' reward system.
At ClubTUKI.com, children play educational games in a wide array of topics including online safety; they earn an online currency called 'TUKI Moola' and bid on real prizes in an online auction. Children win Apple products, gift cards, books, sports equipment and other fun prizes utilizing this patented reward system process.
"Mother's are some of the busies people I know. It is my honor to provide moms with a tool that will benefit their family and busy schedule. Protecting and educating children about online safety is our mission and I'm very excited to offer these Club TUKI memberships to everyone at the California Women's Conference," said Greg Writer, CEO and Founder of Club TUKI.
The TUKI™ browser and Club TUKI™ web portal combine are an online membership community and aggregation of top quality online content for kids in a safe environment. It features interchangeable themes, parental safety controls, kid-safe email, kid-safe YouTube video sharing platform, chore reminders, encouraging & motivational affirmations, and animated characters – all in an environment that allows them to enjoy the benefits of the Internet, without the dangers associated with it while accelerating educational growth at the same time. For more information visit http://clubtuki.com/