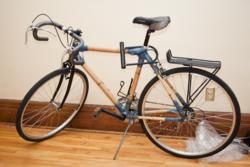 I managed to cross the George Washington Bridge just as the sun was setting over New York. The view was spectacular.
Montreal, QC (PRWEB) September 20, 2012
In August 2012, Ben Kurzius became the first person to bike from Montreal to New York City on a bamboo bike. The journey took 3 days and covered over 700 kilometers. Kurzius' bicycle was built by Bamboo de Grace, a company that sells bamboo bikes in Montreal.
Kurzius, a native of Westchester, NY and recent graduate of McGill University, had been working as a bike courier in Montreal. After working for a few months using a "terrible, but some would say retro" 1960's bike, Kurzius was looking for an upgrade. "I met Antoine at The Flat (bike collective) and I knew next to nothing at this point. He taught me the basics of bike maintenance. Then he told me about his business and he gave me a very reasonable rate on a new frame. I thought I'd be pretty cool to have a bamboo frame for my whole life."
Originally from Arlington, Virginia, Antoine Planche started Bamboo de Grace in July 2012. Planche has years of experience both working in Northern Virginia in bike maintenance and as a bike courier. Planche started Bamboo de Grace to become the premier company to supply Montreal bamboo bikes. He has partnered with Mark Belson on the venture. BdeG has started supplying acquaintances with bikes to spread the word, and sold their first bike to Kurzius for his trek.
Kurzius was going to do the trip with three of his friends but they all cancelled at the last moment leaving Kurzius on a long solo ride. It became even longer when Kurzius took a wrong turn and ended up on the road to Lake Placid. With no GPS and using only road maps, it took Kurzius 10 miles for him to retrace his steps and get back on track. "[The Adirondacks] were the hilliest part of the trip. There were brutal 1,000 foot climbs. It was 6pm and I was physically and mentally drained so I gave up and resolved to get up even earlier the next day." Kurzius stayed in Port Henry that night, about 16 miles off his goal of making it to Ticonderoga.
Without a wicking shirt, Kurzius suffered extreme sunburns throughout the 3-day trek. "We're talking sunburn that causes fever and chills at night. And applying aloe vera is the most painful thing." While forgetting sunscreen, Kurzius loaded up on food for his ride: "I got a 12 pack of Nutri-Grain bars and ate them nonstop all day. I bought lots of trail mix and Gatorade. Also I don't think I could have done it without Vitamin B and Folic Acid supplements."
Kurzius almost made it the entire trip with no maintenance problems but got a flat tire on the third day. "I was on Route 9n, super busy with lots of trucks whizzing by and a 2-3 foot shoulder. All of a sudden there's a massive gravel pile. I got a flat but managed to change it on the side of the road." That wasn't the last of his problems, "I could not get sufficient pressure with my pump then about 10 miles later [the tire] popped again. My wrench broke and I couldn't get the wheel off. It was getting dark and I could tell I could not make it [to my destination] before sunset so I just started wandering." Kurzius wandered right to a bar with a bike outside of it and managed to strike up a conversation with a fellow cyclist who was able to fix Kurzius' tire issue. Other than a few minor incidents, the bicycle came away unscathed.
Kurzius lodged in cheap motels and managed to keep is spending at a minimum. "About $170 total. Basically twice the cost of the greyhound, which was the alternative." Kurzius stayed two nights in motels before spending his third at his sister's residence in Manhattan. "I headed into New Jersey for the last 20 miles or so. I managed to cross the George Washington Bridge just as the sun was setting over New York. The view was spectacular." Kurzius said he averaged about 10 hours and 230 kilometers of biking during the trip, but did not seem fazed by the distance. "I'm biking to D.C. next weekend [from Westchester, NY] so the first day should be around 6-7 hours and the second day will be a 10-12 hour hard day."
"Next time I'm remembering 100 SPF, waterproof and sweatproof. It's a worthwhile investment."
Bamboo de Grace serves as the premier bamboo bike shop for the city of Montreal. All bikes are hand built to the client's size and customizable in terms of colors and component selection. Each frame requires about one full work week in which the utmost care is taken with every detail from the selection of each bamboo tube to the very last finishing touches to provide the customer with a truly one of a kind bike. Bamboo de Grace takes pride in manufacturing quality bamboo bikes for the Montreal community that will offer a lifetime of enjoyment and unforgettable experiences.
For more information go to bamboodegrace.com or Facebook.com/BamboodeGrace