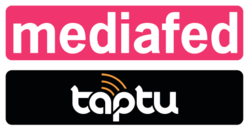 Cambridge, England, London & Denver (PRWEB) September 20, 2012
Today, Mediafed – the global leader in RSS news feed monetization – is announcing it is acquiring award-winning mobile search and technology company, Taptu, known for its consumer apps and news aggregation platform, to pioneer the leading mass-scale mobile and social news experience worldwide. Financial details of the transaction were not disclosed.
Mediafed's acquisition of Taptu brings together two powerful services. Mediafed has built a profitable and fast-growth platform for monetizing RSS, while Taptu's critically acclaimed mobile news reader allows consumers to 'DJ their news' by mixing and mashing sources and topics into contextual streams for an extremely tailored news reading and sharing experience. Taptu is available on phones and tablets in over 100 countries, across iOS, Android, BlackBerry, Samsung and mobile Web platforms. Taptu's technology is supported by numerous accolades including The Meffy Award for Best Content Discovery & Personalization, 148Apps' Best App Ever Award for Best News App on the Android Platform and was named one of the best ways to read books, magazines and newspapers by The Wall Street Journal in August 2012.
"Our acquisition of Taptu will create the first global platform to monetize RSS across all digital devices," said Ashley Harrison, Chief Executive Officer of Mediafed. "This is the future of publishing and we are elated to gain the incredible Taptu product, technology, team and committed user base in this quest."
Mediafed is the first company to build a significant business around RSS, and monetizes news feeds to 125 million consumers from over 1,200 premium publishers around the globe. The company commands industry leading advertising rates today, and firmly believes Taptu will accelerate growth in the mobile consumer market and bring a profitable advertising ecosystem to mobile publishing. Already owning an impressive community of users on the desktop, Mediafed more than doubled its mobile user base in the past three months from 20 million to 50 million visitors, and the platform is already generating revenue in 55 countries worldwide.
"Since re-launching Taptu two years ago with a fresh product and new direction for the company, the team has created an incredible service using Taptu's powerful search technology, and built a loyal customer base who enjoy DJ-ing their news every day," said existing VC investor, DFJ Esprit Partner, Krishna Visvanathan. Nicolas Autret, existing investor and Senior Associate at Sofinnova Partners added, "We look forward to building on Taptu's success through Mediafed's incredible monetization engine and its rich stable of premium publisher relationships."
"We are thrilled to become a part of the Mediafed family and feel we have found the perfect partnership to take the lead in digital publishing," said Taptu CEO, Mitch Lazar. "Mediafed has developed a powerhouse in content monetization that together with Taptu's team and platform will provide a compelling opportunity for advertisers, publishers and our customers."
Taptu users will still be able to enjoy Taptu's mobile and Web apps, as product innovation and new features continue to be implemented down the road. Beyond a successful consumer app, Taptu's mobile publishing platform, Tapform, powers the content for international publications The Guardian Environment and Dutch media outlet, De Pers.
Mediafed has built strong publisher relationships as well, working with over 1,200 premium publications worldwide such as The New York Times, The Guardian, Le Monde, El Mundo and Sueddeutsche to name a few.
Check out Mediafed:
http://www.mediafed.com
About Mediafed:
Founded in 2007, Mediafed works with leading global advertisers and publishers on a high-value CPM model to turn RSS feeds into profits. In addition, Mediafed provides an industry leading, ABC Electronic ratified, RSS metrics platform to provide publishers with detailed, granular information and data along with 24/7 support and syndication services to maximise content reach. Mediafed has a base of 125 million users and growing thanks to partnerships with some of the world's best-known publishers including the New York Times, Le Monde, Reuters, Axel Springer, Hachette Filipacchi, IDG, El Mundo, La Gardere and WSJ China. Mediafed was named one of Europe's top ten fastest growing digital media companies at the 2011 Media Momentum Awards and is ranked 26th in the 2012 Sunday Times Hiscox Tech Track 100, which lists the UK's top private companies with fastest-growing sales over their last three years.
Try Taptu HTML5 today:
http://taptu.com
For iOS:
http://itunes.apple.com/us/app/taptu/id392240746?mt=8
For Android:
https://play.google.com/store/apps/details?id=com.taptu.streams&feature
About Taptu:
Founded in 2006, Taptu is an award-winning social media and mobile technology company based in Cambridge, England, and Denver, Colorado. Taptu builds innovative platforms, tools and applications that enable highly personalized creation, curation, recommendation, search, discovery, management, consumption and sharing of content across all personal screen-based devices. Wapedia, Taptu's popular mobile Wikipedia with over 4 million downloads, is also available for download at the Apple App Store and on the Android Market.
About DFJ Esprit
DFJ Esprit is a leading cross-stage venture capital firm that invests from seed to late stage in European technology and media companies. Members of the DFJ Esprit team have experience of investing in over 200 companies and generating strong returns for investors through building valuable companies alongside the founders and management teams. DFJ Esprit is the exclusive European partner for Silicon Valley-based VC, Draper Fisher Jurvetson, which has $7 billion under management and offices in over 30 cities around the world.
http://www.dfjesprit.com