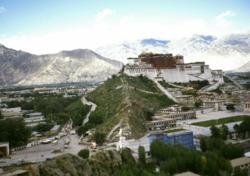 Lhasa, Tibet (PRWEB) September 20, 2012
Songtsan Travel now offers an 8-day tour through Lhasa, Gyantse, Shigatse and Lake Namtso. This spiritual journey traces the footsteps of Buddhist pilgrims, who spend months and years traveling to the many holy sites of central Tibet.
"Travelers on the Holy Lhasa tour will visit magnificent monasteries, ancient chortens, sacred mountains, caves and temples, lively bazaars and historic trading towns," the agency announced. "Throughout the trip, travelers will meet monks, Lamas, Yogis, nomads and scholars and learn about Buddhist culture. They will participate in meditation, observe rituals, mingle with pilgrims, deeply connect with local people and traditions, and expand their inner horizons."
The tour begins in Lhasa, which is the center of Tibetan commercial and spiritual life, and the most popular destination in Tibet for pilgrims and tourists. The city, established in the 7th century, is located in a valley of the Kyi River, a tributary of the Yarlang Zangbo (known in India as the Brahmaputra). At an altitude of about 3,600 meters, Lhasa is sunny year-round and has a semi-arid climate.
Potala Palace is the symbolic center of Tibetan life. Most visitors will recognize this iconic building from depictions in photos and paintings. It was built by the 5th Dalai Lama in the 17th century, and is named for Mt. Potalaka, the heavenly home of Chenrezig, the Buddha of Compassion. The palace has over 1,000 rooms in 13 stories and is the traditional home of the Dalai Lama and the seat of Tibetan government.
In Lhasa's old town travelers will discover the ancient Jokhang Temple surrounded by a famous circumambulation route that passes through the bustling Barkhor market. Not far from the city are the Sera and Drepung monasteries, which are two of the three most important religious and scholastic institutions of the Gelugpa sect of Tibetan Buddhism.
From Lhasa travelers will travel along the Friendship Highway to visit holy sites in the towns of Gyantse and Shigatse, and then ascend to high-altitude Namtso Lake, a holy and pristinely beautiful pilgrimage destination.
Songtsan Travel is a Lhasa-based tour operator with more than 20 years of experience leading Tibet tours. The agency uses part of its proceeds to provide education to disadvantaged children. Songtsan Travel seeks to promote Tibetan culture and help Tibetans improve their livelihood.