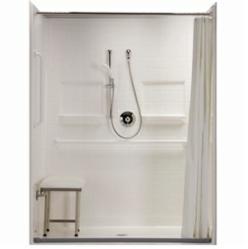 The addition of these high quality roll in showers will give our customers another choice beyond walk in bathtubs.
Denver, CO (PRWEB) September 20, 2012
Aging Safely Walk in Bathtubs, a national supplier and distributor of bathroom fixtures for mobility restricted individuals, is pleased to announce that they are expanding their product offerings to include a walk in shower product line. Aging Safely Baths & More specializes in providing customers with quality IAPMO standard walk in bathtubs and offers design expertise. Customers can purchase their tubs for delivery only or installation. Adding the new walk in shower line allows Aging Safely to provide customers with another option to meet their needs.
Zach Wennstedt, Founder and CEO of Aging Safely Baths, said, "Aging Safely's premium walk in bathtubs continue to be the right choice for many customers, but some customers want to enjoy the safety and accessibility of a shower. Walk in showers satisfies the needs of customers who do not want to bathe but still want to maintain proper personal hygiene with little or no assistance."
Aging Safely will be offering walk in showers that are available in one or multiple pieces. The showers feature extra wide openings for easy entry and exit, convenient, padded shower seats and grab bars for added safety. Showers also feature a handheld shower nozzle to increase the ease of showering while sitting down. Customers with small bathrooms can also select a corner shower that maximizes space while providing bathroom safety and shower accessibility. Every handicap shower is ledge free, can be installed on existing sub-floor and some showers can accommodate a wheelchair. Aging Safely will also offer step in showers for customers who want to transform a tub into a shower. This is an excellent option for customers who have a bathtub they can no longer access or want.
Similar to the quality bathtubs Aging Safely offers, the handicap shower line has a long warranty, so customers can feel secure and confident with their purchase. Aging Safely's quality walk in tubs feature a "no leak" lifetime door warranty, and most of the showers are backed by a 30 year warranty. The handicap showers are also easy to clean and unlikely to promote mildew.
Whether customers want a ledge free shower or a handicap accessible bathtub, Aging Safely Walk In Bathtubs is dedicated to providing an affordable solution that promotes independence and bathroom safety. Customers enjoy peace of mind because they feel secure about bathing or showering when they use a quality step in bathtub or shower from Aging Safely.
Contact Information:
Zach Wennstedt
1-888-779-BATH(2284)
info (at) agingsafelybaths (dot) com