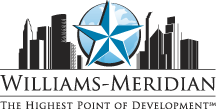 Carrizo Springs, TX (PRWEB) September 25, 2012
Williams-Meridian Companies has made yet another direct real estate investment in South Texas as a part of the Company's recent strategic realignment. Over the past few years, the Firm has changed its business objectives to largely focus on real estate investments and developments throughout the Eagle Ford shale. This is primarily due to the overwhelming demand for housing and commercial real estate that is being generated by the oil and gas shale boom occurring in the area, according to the Company.
CS1 Development recently started constructing housing units on a prime 32 acre tract of land in Carrizo Springs, Texas. The project is initially geared towards better workforce accommodations, and is later expected to be combined with more housing and commercial development. The new development project broke ground in early July 2012 and has been proceeding at a rapid pace from the beginning. This real estate project by Williams-Meridian through CS1 Development is strategically located in the heart of the Eagle Ford shale, within miles of where the largest amount of oil drilling and economic activity is now occurring.
CS1's development project is slated to be one of the only master-planned communities in the Eagle Ford shale. With recreational vehicle spaces, creek-side cabins, potential restaurant pad sites, two motels, an apartment complex, and an additional workforce housing component being planned, this notable project by CS1 Development should be groundbreaking in and of itself. Now with the backing of Williams-Meridian Companies, the target date for this project to open doors is set for late October 2012.
A Company spokesperson was not available at the time of this interview, but for more information on Williams-Meridian Companies and CS1 Development, please visit: