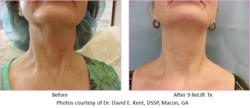 ReLift is an exciting solution that helps patients defy gravity and turn back time by providing a solution to treat local fat and sagging skin occurred via natural causes and age
Jersey City, NJ (PRWEB) September 20, 2012
Viora, a leading medical aesthetics manufacturer, announces ReLift, a new concept that provides a solution for sagging skin and local fat which occurs whether by age, gravity or genetics. Responding to market demand, Viora has developed the ReLift concept to offer patients a non-invasive, effective, painless solution to restore or remodel their neck and jowl lines. The use of ReLift results in a tighter, firmer look across the lower face.
With the use of Reaction™, a leading body contouring device, ReLift's treatments is rooted in Viora's proprietary, proven CORE™ multi-frequency RF technology. CORE™ allows the treatment of sagging skin by restoring collagen flexibility to improve the skin's firmness and elasticity. To address local fat, ReLift treatments heats subcutaneous tissue layer to stimulate natural lipolysis ultimately shrinking fat cell volume. Due to the versatility of CORE™ technology, practitioners can both contour and tighten skin with just one device. To see results, visit Viora's ReLift page.
"ReLift is an exciting solution that helps patients defy gravity and turn back time by providing a solution to treat local fat and sagging skin occurred via natural causes and age," said Eliran Almog, CEO of Viora Inc. "Utilizing Reaction's innovative technology aesthetic practitioners can now offer a non-invasive, safe, proven treatment that will cater to an increasing number of people who want to look and feel their best, without letting age wear them down."
"For years my patients have been asking me for an effective, non-invasive solution that would make them look younger so I was very happy to see the results of ReLift," said Dr. David E. Kent, Dermatologic Surgery Specialists, Macon, GA. "Reaction's ability to deliver such significant changes in facial contouring, without any pain or down-time, is a great opportunity for those with sagging skin and fatty jowl lines."
"One day I looked in the mirror and did a double take! How is that I feel so young but look like my mother?!" asked R., a patient who has had the ReLift treatment. "ReLift has allowed me to feel good about my age, without dreading my reflection. Thanks to the easy, painless treatments with Reaction™, my neck looks tighter and thinner."
About Reaction
Viora's Reaction™ offers non-invasive body contouring and skin tightening treatments, featuring the new-age CORE™ (Channeling Optimized RF Energy) technology. Only CORE™ delivers three distinct RF treatment modes and a multi-channel mode that incorporates all frequencies, delivering exceptional treatment accuracy and results. Reaction™ is endorsed by leading physicians and dermatologists worldwide.
About Viora
Viora is a market-leading manufacturer and technology provider of microdermabrasion, electro-mesotherapy, light-based and advanced radiofrequency systems for the global aesthetic and medical markets. All of the products are developed by a team of veteran engineers in the industry as well as medical experts including physicians, surgeons, dermatologists, medical researchers and independent clinical directors. For more information, visit http://www.vioramed.com.