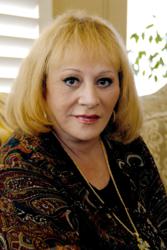 It does not matter if you believe in God, because God believes in you.
(PRWEB) September 20, 2012
Sylvia Browne is a world renowned spiritual teacher, psychic, author, lecturer and researcher in the field of parapsychology. Sylvia is well known for her dynamic, genuine, down-to-earth style and personality. She lectures, teaches, and counsels people from Africa, Europe, Asia, and Australia. Sylvia manifested her psychic ability at the age of three, in her home town of Kansas City, MO. For many years she shared her gift with friends and family, and became very well known for helping people to see their future. Moving to California in 1964, she continued assisting people privately. Sylvia then wanted to make a professional, legally sanctioned, organization to further her research into the paranormal. This goal was realized in 1974 when Sylvia incorporated The Nirvana Foundation for Psychic Research, a nonprofit organization (now known as Sylvia Browne Corporation). Since then, Sylvia has helped thousands of people gain control of their lives, live more happily, understand the meaning of life, and to find God in their own unique way.
Sylvia's philosophy of life is based upon research into past lives, via hypnosis, and through the information obtained via Sylvia's deep trance channeling ability. From thousands of hypnotic regressions, and hundreds of trance sessions, the fact of reincarnation was established as the key to understanding life. Sylvia accepts reincarnation as a central theme in her philosophy, yet this belief is never forced upon anyone who does not want to hear it. Sylvia always says, "Take with you what you want and leave the rest behind." She is also strongly pro God, but again does not force the issue. Sylvia likes to tell people, "It does not matter if you believe in God, because God believes in you."
Tickets for Sylvia Browne, The World's Most Renowned Psychic & Spiritual Teacher are $40/50. They are on sale now and can be purchased through the theatre website at http://www.uptowntheatrenapa.com, at Ticketmaster (http://www.ticketmaster.com) or at the theatre box office (please call 707.259.0123 ext. 6 for hours). To find out more, please visit http://www.uptowntheatrenapa.com.
The Uptown Theatre Napa is downtown's ultimate destination for live concerts. Nestled in the famed West End district, this stunningly restored art deco masterpiece showcases only the finest acts, featuring music, comedy and more. An historic landmark, the Uptown offers a phenomenal, intimate live show experience, with excellent site lines and world class sound and lighting. As concert venues go, this is the place to be. Every seat is a great seat so buy concert tickets now!