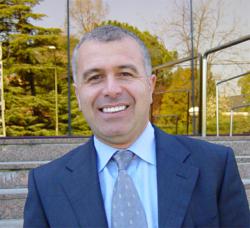 We will begin operating in the US in September with an office in San Francisco, and will be present in the UK market during Q4 of this year
Madrid, Spain (PRWEB) September 20, 2012
Visure Solutions, the market leader in Requirements Lifecycle Management, today announced the appointment of Joe Cisneros as Chief Executive Officer. British born, and based in Madrid, Mr. Cisneros is an established global marketplace executive with more than 25 years of high-level management and leadership experience in the software industry, and he now faces the challenge of taking Visure worldwide.
Previously, Mr. Cisneros has held CEO and VP roles in both start-up ventures and established software corporations, such as Canalsoft and Information Builders, where he gained a deep understanding of the international software business. His team building, sales, and operational capabilities will inject the energy, focus, and momentum necessary to achieve rapid exponential growth and deliver increased value to Visure customers around the world.
Joe's primary focus will be on the globalisation of the Company, and as CEO he will work closely with the Board to develop the Company's vision of becoming the world's leading supplier of Requirements Lifecycle Management software, spanning the entire requirements lifecycle in the embedded and enterprise software & hardware development market.
The President of the Board, Enrique García Alcázar said "he is delighted to bring to the team a true international executive with no business, political or cultural barriers, and exceptional people management and communication skills".
He added that the mission of taking the business to new territories is based not only on gaining global presence, but also generating consistent profitable growth. "Joe will be instrumental in achieving this objective as he brings an outstanding sales & management background with a very clear understanding of the resource and financial parameters associated with making software companies successful."
Joe commented that "Visure has firmly established itself in the Spanish market and has begun to operate successfully in Germany. We are currently experiencing 100% growth year on year, and the time is right to make a move on a global scale." He is very clear about his immediate focus, stating that "the Company is absolutely ready in terms of our team and our technology, to make it big outside Spain. The prime goal is to gain visibility and footprint in new markets and enable rapid value growth" he added, "we will begin operating in the US in September with an office in San Francisco, and will be present in the UK market during Q4 of this year". He concluded that "a strategic emphasis on Technology Alliances will provide a model to support value-added growth and facilitate our commitment to offer open, best-of-breed solutions to customers in both the embedded and enterprise software & hardware development space worldwide".
About Visure Solutions
Visure Solutions, the Requirements Lifecycle Management Company, is the market leader in Requirements Definition & Management. Through its Requirement Lifecycle Management platform, Visure offers specialized and innovative solutions that enable its customers to develop the highest-quality products, systems and services. Visure,s quality, state-of-the-art features and benefits are endorsed by the world's leading organizations. Visure's team has a unique and profound experience in the development and implementation of requirements solutions.
Visure Solutions is headquartered in Tres Cantos, Madrid, Spain with branch offices in the United States, United Kingdom, and Germany. Visure has leading distributors worldwide in Austria Belgium, Brazil, Canada, China, France, Italy, India, Mexico, The Netherlands, Portugal, and Scandinavia.
For more information, please visit http://www.visuresolutions.com.